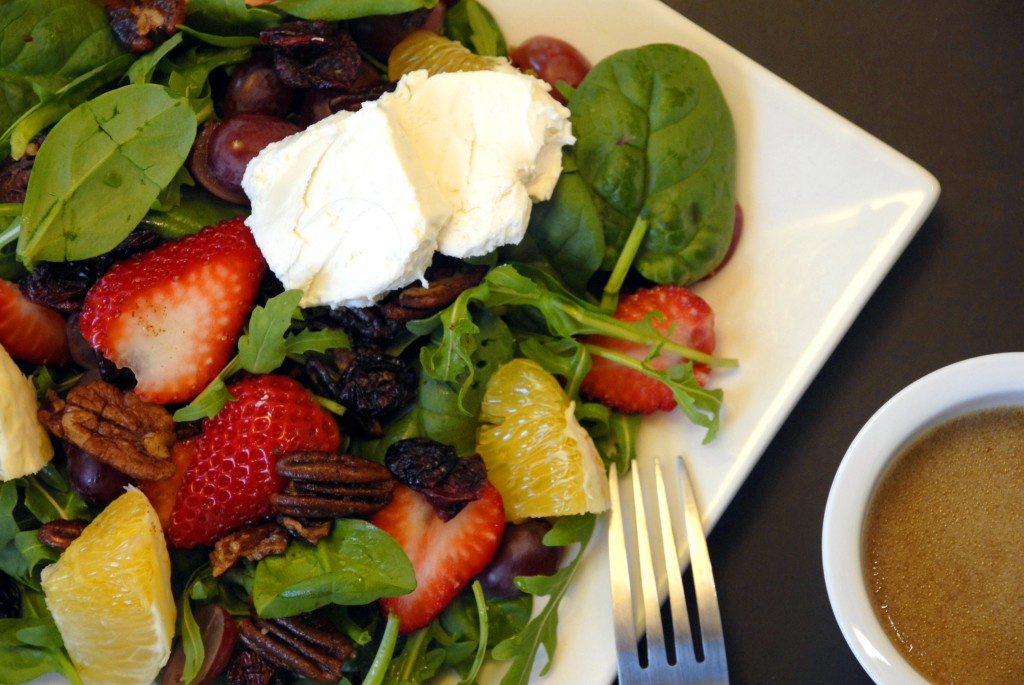 When faced with the decision of what to choose for Project Pastry Queen the week of Thanksgiving, I knew I had to keep it light.  I don't think any of us wanted a) to spend more time in the kitchen this week than we had to before Thursday and b) to have a giant cake lying around the house to have to finish before the biggest food day of the year.  I have to admit: this recipe is very very loosely based on the recipe I was supposed to present to you for Project Pastry Queen this week.  In fact, for the actual recipe, I'm going to direct you over to the other Emily on Project Pastry Queen for the recipe found in the book.
Because this PPQ recipe used goat cheese, it reminded me of the first salad that got me liking goat cheese and then I got an intense craving for that salad so this recipe is actually inspired by my favorite salad at the Corner Bakery.  Since I've never purchased goat cheese for myself, I found myself standing in front of the goat cheese at Trader Joe's for quite a long time before settling on a package of goat cheese with honey.  I'm pleased to say I really liked it!  There are a lot of other delicious add-ins to the salad as well, including Pastry Queen's spiced pecans, and hands-down the easiest vinaigrette recipe I've ever found; a pomegranate vinaigrette.  A great refreshing salad, perfect to counteract those calories that you're going to be consuming later this week!
Mixed Greens with Goat Cheese and Pomegranate Vinaigrette
Spiced Nuts from Project Pastry Queen
Pomegranate Vinaigrette adapted from Robin Miller
arugula
spinach
orange slices
strawberries, sliced
dried cranberries
grapes, halved
goat cheese
Spiced Pecans
1 1/2 cups pecan halves
3 tablespoons butter
1/2 teaspoon cumin
1/4 teaspoon cayenne
1/4 teaspoon salt
Pomegranate Vinaigrette
1/2 cup 100% pomegranate juice
2 tablespoons champagne vinegar
2 tablespoons olive oil
2 teaspoons Dijon mustard
Heat oven to 350 degrees.
Melt butter in a small saucepan, stir in cumin, cayenne, and salt.
Pour butter mixture over the pecans in a bowl and mix until pecans are evenly coated.
Spread pecans in an even layer on a baking sheet and bake for 5-7 minutes.
Take out and set aside; let cool for 15 minutes before putting on salad.
Put all vinaigrette ingredients into an well-sealed container and shake vigorously until well combined.
Toss equal parts spinach and arugula in the vinaigrette, top with orange slices, grapes, strawberries, cranberries, spiced nuts and rounds of goat cheese.  Enjoy!