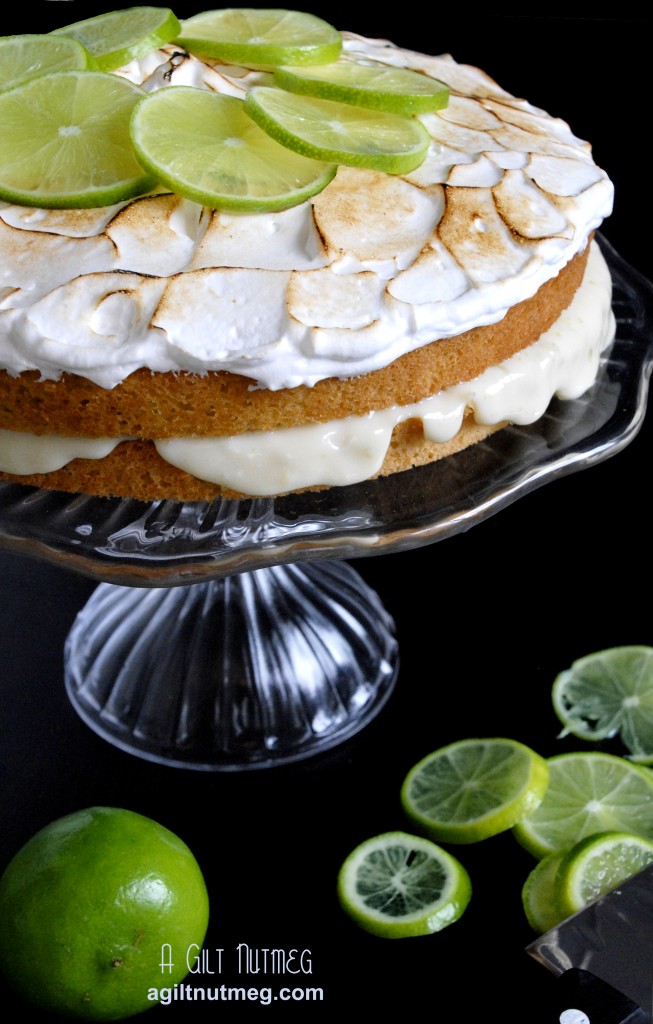 I absolutely love Key Lime Pie.  I really think it's got to be in my top 5 list of favorite desserts…although I'm sure that list is changing all the time.  Despite it being one of my favorites, I wanted to find a twist on the usual pie to bring to my cousin's 4th of July gathering in Anaheim, and thought this cake might be just the trick.  You don't usually see meringue as a topping on cake, but I think the effect overall was quite delicious.  It's a little more sturdy than a traditional Key Lime Pie, with the pie filling sandwiched between two thin layers of sponge cake instead of sitting on top of a pie crust.
Just a few notes: I used normal limes instead of Key limes just because I like the stronger lime punch that normal limes give, plus they're easier to find and and there's less time spent juicing.  Also, I used meringue powder instead of egg whites for the meringue topping, just to play on the safe side.  Traditional egg white meringue recipes are a dime a dozen on the internet; the link below will give you one.
Lime Meringue Cake
Adapted from Eating Well; meringue from Wilton

1/2 cup all-purpose flour
1/3 cup cake flour
1/4 teaspoon salt
4 large eggs at room temperature
2/3 cup sugar
1 teaspoon vanilla extract
1 teaspoon freshly grated lime zest
3 tablespoons canola or vegetable oil
1 can (14 oz) sweetened condensed milk
1/3 cup lime juice
1 teaspoon freshly grated lime zest
1 tablespoon meringue powder

1/4 cup cold water

6 tablespoons plus 2 teaspoons granulated sugar
Heat oven to 350 degrees and spray two 9″ cake pans with baking spray.
In a medium bowl, whisk together the all purpose flour, cake flour, and salt; set aside.
In a large bowl, beat the eggs and sugar on medium-high speed until doubled in volume, about 10 minutes.  Add the vanilla and lime zest, beating for one more minute.
Very gently fold the oil into the egg and sugar mixture until fully incorporated.
Also very gently, fold the flour mixture into the egg, sugar and oil mixture until the white streaks are gone.  Folding in the flour in three or so parts will help make sure you don't find giant pockets of flour not incorporated later.
Divide the batter between the two cake pans and tap the pans on the counter so that the largest of the air bubbles come to the surface.
Bake for 20-22 minutes until an inserted toothpick comes out clean.  I warn you, the cakes may look a little strange.  At least, they did for me.  The tops were totally pocked with popped air bubbles.  But it did taste great, so no worries!
While the cakes are baking, whisk the condensed milk, lime juice, and lime zest together in a small-medium bowl that you won't be needing later.  Put it in the fridge to thicken for 30 minutes.
Let the cakes cool for ten minutes on wire racks before turning them out of their pans and cooling.
In a large bowl, add the meringue powder, the water and half the sugar (3 tablespoons + 1 teaspoon).  Whip at high speed for 5 minutes.
Gradually add the rest of the sugar and whip for 5 more minutes.
Spread the meringue on top of one of the cake layers.  Brown the meringue either by using a kitchen torch, or by placing the cake layer on a cookie sheet and putting it under your oven's broiler element.
To assemble the cake, place the remaining cake layer on the plate you plan on serving the cake on, spread the lime filling over the layer, then add the layer with the meringue on top.  Top with lime slices, if you desire, for decoration and enjoy!