I'm jumping the gun on this week's Project Pastry Queen Challenge, but I just had to share this before Christmas!  I made it as a gift for my boyfriend's family and his dad kept sneaking pieces before dinner, despite the fact we were supposed to be saving it for dessert.  They loved it!  The cake has a great lemon flavor and the sweet-tart cranberries mean that this dessert is perfect for family members to grab slices all through out the day, or you can save it for dessert with some whipped cream or ice cream.
The recipe calls for fresh cranberries; I expect these soften and burst just like blueberries do in blueberry muffins, but all I had were dried cranberries that I needed to use up and I think they're a great substitute.  The texture is, of course, a little different, but I think either are great so use whichever you want!  The glaze isn't the thick white glaze I expected, but instead a light sugar syrup brushed over the top, which adds just the perfect amount of sweetness.  You can barely see the dark outline of the glaze in the picture below.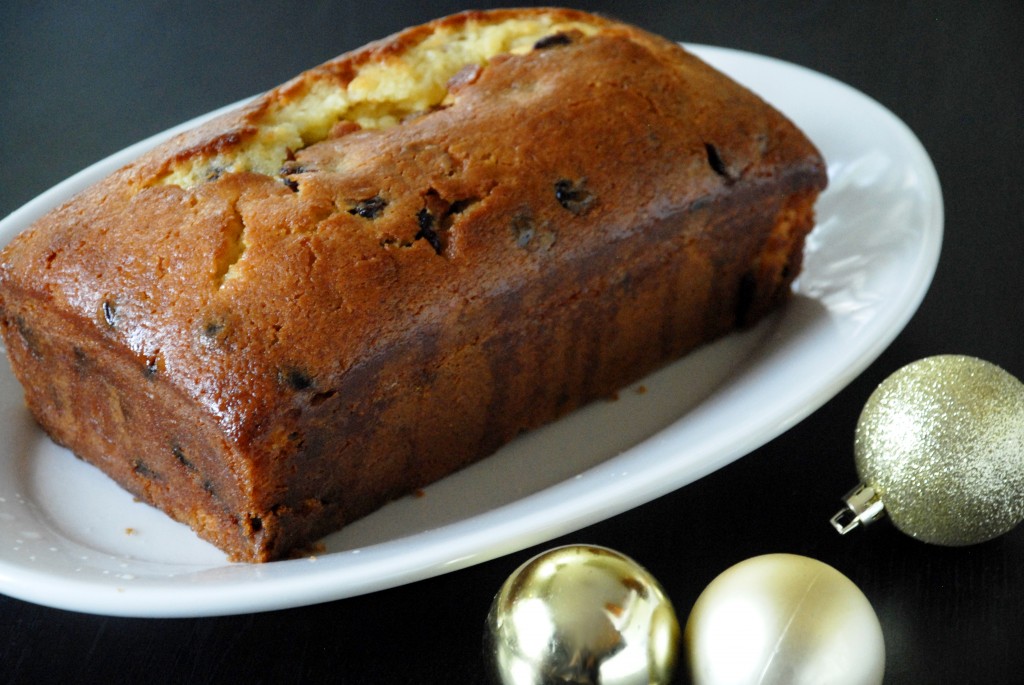 Thanks, Shawnda, for a great recipe choice for the holiday season and be sure to check out PPQ for the other bloggers takes on the cake.  I'll be taking a little break now (this will count as Monday's post) but I'll be back on Wednesday!  Happy Hannukah, Merry Christmas, and Happy Holidays to whatever you choose to celebrate!
Glazed Lemon Cranberry Loaf Cake
Recipe from The Pastry Queen by Rebecca Rather
1 cup fresh or dried cranberries
1 2/3 cups all purpose flour
1/2 cup (1 stick) unsalted butter, at room temperature
1 cup sugar
2 large eggs
1 1/2 tsp baking powder
1/4 tsp salt
1/2 cup milk
1 tablespoon grated lemon zest
Lemon Glaze:
1/4 cup sugar
1/4 cup freshly squeezed lemon juice (1 lemon usually produces about 1/4 of a cup for me)
Preheat the oven to 350. Grease a 9 x 5 inch loaf pan with butter, sprinkle lightly with flour and tap out excess (or spray with cooking spray.)
Cream the butter and sugar in a large bowl on medium-high speed for 1 minutes, until fluffy.
Add the eggs and beat on medium-high speed for 1 minute. Add the baking powder, salt, and half of flour; mix on low speed just until combined.
Add half the milk and mix on low speed just until combined. Add the remaining flour, mix just until combined, then the remaining milk.
Fold in the lemon zest and the cranberries.
Pour the batter into the pan and bake about 1 hour (check after 45 minutes) or until a tester stuck into the middle of the loaf comes out clean. Cool the loaf for about 15 minutes (and make the glaze while it's cooling), then remove it from the pan and set on a wire cooling rack.
Once the cake is cooling, make the lemon glaze: Combine the sugar and lemon juice in a small saucepan and set over medium-high heat, bring the mixture to a boil and cook about 30 seconds. Remove the pan from the heat.
Gently pierce the top of the loaf cake many times all over with a toothpick (I used my wire cake tester). Use a pastry brush to apply the warm glaze evenly over the top of the loaf.  It feels like a whole lot of glaze, but really, just keep sopping it on until you run out-the glaze will soak into the cake and give it just the right amount of sweetness.
Serve immediately or let the glaze set before covering it with tin foil for the next day.  Enjoy with plain or ice cream!  (or like me, I put whipped cream on everything, actually preferring it to ice cream)