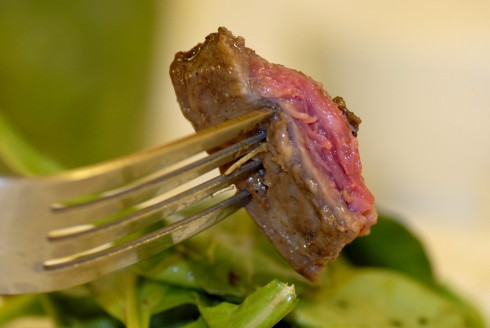 I've been making this marinated skirt steak since I was in high school and, truthfully, I have never found a marinade that even comes close to this.  That said, I have to give credit to my little sister, who was more ambitious in the kitchen before I was, for finding this recipe from Martha Stewart.
The recipe is so easy that after making it once, you won't even need to look at the recipe again or even measure ingredients for that matter-just adjust to your own tastes (for example, I'm a huge garlic lover.  Martha only calls for 2 cloves).  I'm sure this would be great to throw on the grill, but I've always just put it under the broiler in my oven and loved it. When you think about it, 5 minutes throwing together the marinade, plus 3 minutes per side in the oven, there's never really a bad time to make this…so what are you waiting for?
Balsamic Marinated Skirt Steak
Recipe modified from Martha Stewart
Serves 4
1/2 cup balsamic vinegar

1/4 cup soy sauce

2 tablespoons brown sugar

4 garlic cloves, sliced

1 tablespoon dried rosemary

Coarse salt and ground pepper

1 pound skirt steak
Trim skirt steak of excess fat.  My supermarket is very inconsistent-sometimes very fatty pieces (hidden from view, of course) and sometimes very lean.

Place steak in a shallow Tupperware container, stab it all over with a fork, and add all of the ingredients.  Shake!

According to Martha, you can let it marinate at room temperature for 15 minutes, but I usually throw this all together in 5 minutes or less the night before and then throw it in the fridge overnight.

Set the oven to "Broil" and line a rimmed baking sheet with tin foil.  Place the steak on the sheet (I make sure to grab all those garlic slices and roast them too!).  This steak, because it's so thin, cooks FAST so don't walk away!  3 minutes per side is all you need for the thickest parts to be medium rare.

Pull the steak out and cover with tinfoil (I promise, it will stay blazing hot) and let it rest for at least 5 minutes.  If you get anxious and don't let this time pass, you will have a MESS all over your cutting board and your meat won't be as juicy as it could have been, which is a shame.
Enjoy!  (Also awesome as cold leftovers…some people have to grab an Oreo every time they pass the cupboard…I have to grab a slice of this steak whenever I pass the fridge)