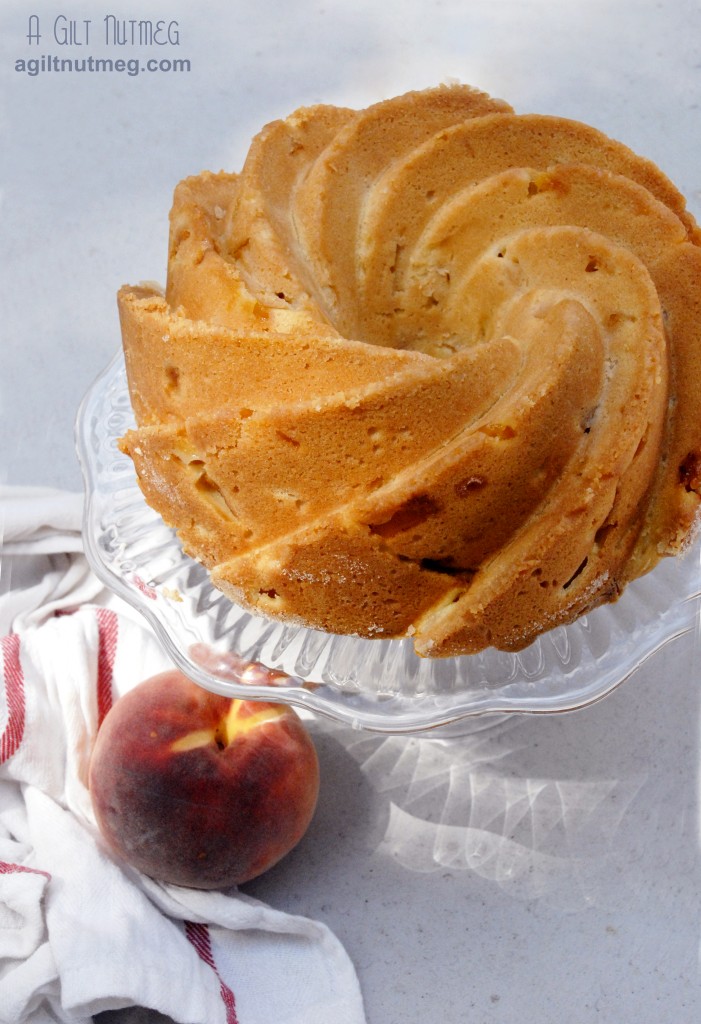 Okay, okay, I've been AWOL.  The truth is…summer finally got to me!  Summer in LA is a very slow starter and it doesn't even get legitimately warm enough for beach weather until August.  Of course that means that my apartment in Beachtown, which doesn't need air conditioning 11 out of the 12 months of the year, is all of a sudden sweltering.  Standing in the hot kitchen was, truthfully, the last thing I want to do, especially when I could hop on my beach cruiser and head down the breezy coast instead.  But I'm back and I want to share one last grab at Summer's bounty with this Peach Pound Cake!
I hope that you've still got a handful of peaches hanging around at the grocery store, even if Fall apples are breathing down their necks, ready to take their spot in the produce section.  This cake is a cinch to throw together, has a tasty sugar crust and features my favorite summer fruit, so get on it while you still can!
Peach Pound Cake
Adapted from The Fresh Market, via Annie's Eats
1 cup butter
2 1/4 cups sugar plus 1/4 cup sugar set aside
4 eggs
1 teaspoon vanilla extract
2 3/4 cups all-purpose flour plus 1/4 cup flour set aside
1 teaspoon baking powder
½ teaspoon salt
3 large fresh peaches, peeled, pitted and chopped
1/4 teaspoon nutmeg
1/2 teaspoon cinnamon


Heat oven to 350 degrees.  Spray a bundt pan with baking spray and sprinkle generously with the 1/4 cup of sugar that was set aside.  Make sure to evenly cover the whole pan with sugar, shaking and tilting the pan to cover every inch.  Gently dump out the extra, without knocking too much of what's already stuck to the pan.
In a large mixing bowl, cream together the remaining sugar and butter, beating for 5 minutes.  While that's beating, in a separate medium bowl, whisk together the 2 3/4 cups flour, baking powder, and salt.
Add the eggs, one at a time, then add the vanilla and beat until well combined.
Add the flour mixture, a little at a time, stopping after the streaks of flour have disappeared.
In a small bowl, mix the 1/4 cup of flour, nutmeg and cinnamon, then toss with the peaches until the peaches are evenly coated in the flour-spice mixture.
Fold the peaches into the batter (it will be quite a thick batter, so it'll take a little bit of elbow grease) and transfer the batter to the prepared bundt pan, spreading so that it's evenly distributed in the pan.
Bake for 1 hour and 10 minutes, until the top is golden brown.
Let it cool on a wire cooling rack before slicing.  Enjoy!