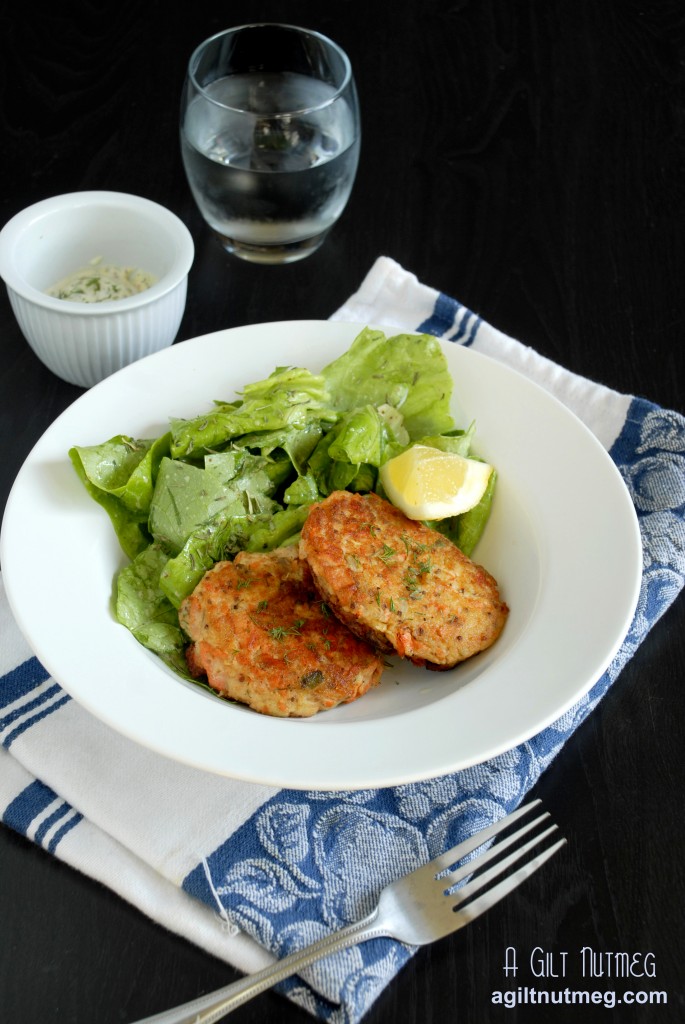 When I am making salmon for dinner, my favorite side dish to serve with it is whipped potatoes.  To me, nothing beats the soft, buttery potatoes in contrast to the flavorful, flaky fish-pair it with a simple salad and I'm in fish heaven.  While I love salmon, I've never been a huge fan of salmon croquettes because the binders (crackers, bread crumbs) were overbearing in flavor or unappealing in texture; the fish just always seemed to get lost.  Imagine my delight when I found this recipe for salmon croquettes that used mashed potatoes as a binder!
The texture is certainly a bit more delicate than your average croquette, but these croquettes put me right up there in fish heaven again and I'm so glad I've found this recipe.  Instead of an overwhelming breadcrumb flavor and texture, you get those wonderful mashed potatoes and flaky salmon mixed in with fresh dill, lemon zest, and scallions.  Even better, there's a dill Dijon mayonnaise that pairs with it and, long story short, I will be happily eating these for days to come.  For those big eaters out there, I know the above picture looks like a pretty light meal, but these are surprisingly filling!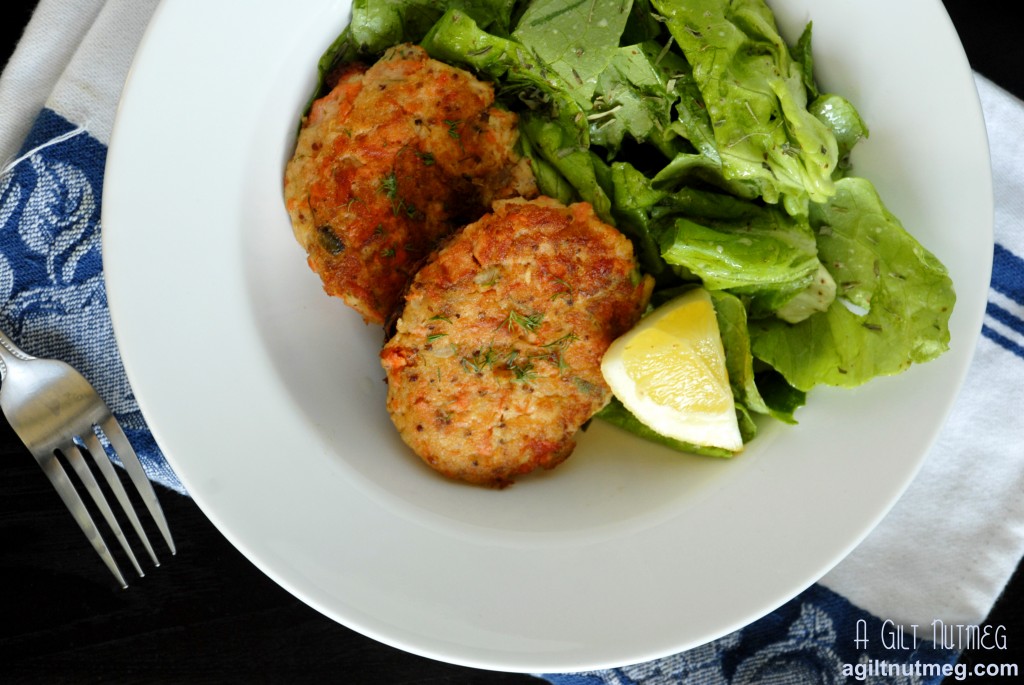 Pan Fried Salmon Croquettes
Adapted from Bon Appetit
Makes 12 medium sized cakes
1/2 cup mayonnaise
2 Tablespoons Dijon mustard
3/4 pound salmon fillet, preferably sockeye
olive oil for brushing
1 1/2 lbs russet potatoes, diced
1 teaspoon kosher salt
1 egg + 1 egg yolk, lightly beaten
2 tablespoons chopped fresh dill (my secret: instead of chopping with a knife, I just use scissors and cut it over the bowl)
2 scallions, thinly sliced
lemon zest from 1 large lemon
1/2 teaspoon cayenne pepper
1/2 teaspoon paprika
black pepper to taste
vegetable oil for frying
Combine the mustard and mayonnaise in a small bowl.  Measure out 1/3 cup of the mixture for the croquettes and refrigerate the rest for later.
Brush the fish with olive oil and bake in a 400 degree oven for about 12 minutes.  Set it aside to cool and in the meantime…
Cover the diced potatoes with water, sprinkle some salt in, and boil until tender.  Drain the potatoes and let cool; mash them or use a stick blender until smooth.  (When I used the stick blender they got a little sticky and gummy, but I figured this was fine considering they were being used as fish glue).
Remove the skin and any bones from the fish, move it to a medium bowl and using two forks, flake it into large pieces.
In a large bowl, combine the mashed potatoes, salt, egg, dill, scallions, lemon zest, cayenne pepper, paprika and black pepper.
Fold the Dijon mayonnaise mixture and salmon into the mashed potatoes mixture until thoroughly combined.
Line a baking sheet with parchment paper or waxed paper.  Spoon (I used an ice cream scoop and it worked perfectly) the mixture into 12 even portions onto the prepared baking sheet, cover loosely with plastic wrap and put the sheet into the fridge.  You want to leave them in the fridge for at least an hour; I fried up a few for dinner that night and left the rest in the fridge overnight and they were great for dinner the next night, so prepping all of this the night before will mean a super fast dinner the next night.
Heat a few tablespoons of vegetable oil in a large pan and add 3-4 cakes, flattening or shaping them into rounds as necessary (err on the side of more oil rather than less, as I found that the cakes stuck to the pan a bit when I used less oil).  Fry until golden brown on each side, about 3 minutes on each side.  I put the lid on the pan while I waited, to cut down on grease splatter and ensure that the cakes were hot enough to fully cook through.
When ready to serve, add about a Tablespoon of lemon juice (I just squeeze a quarter of a lemon in that I had lying around) and any left over fresh dill to taste to the Dijon mayo sauce and serve the cakes with a lightly dressed salad.  Enjoy!
Up next to try: freezing the patties for a super quick dinner down the line and seeing how these turn out if I were to bake them instead of fry them.  Trust me, it won't take long for me to get around to these again!