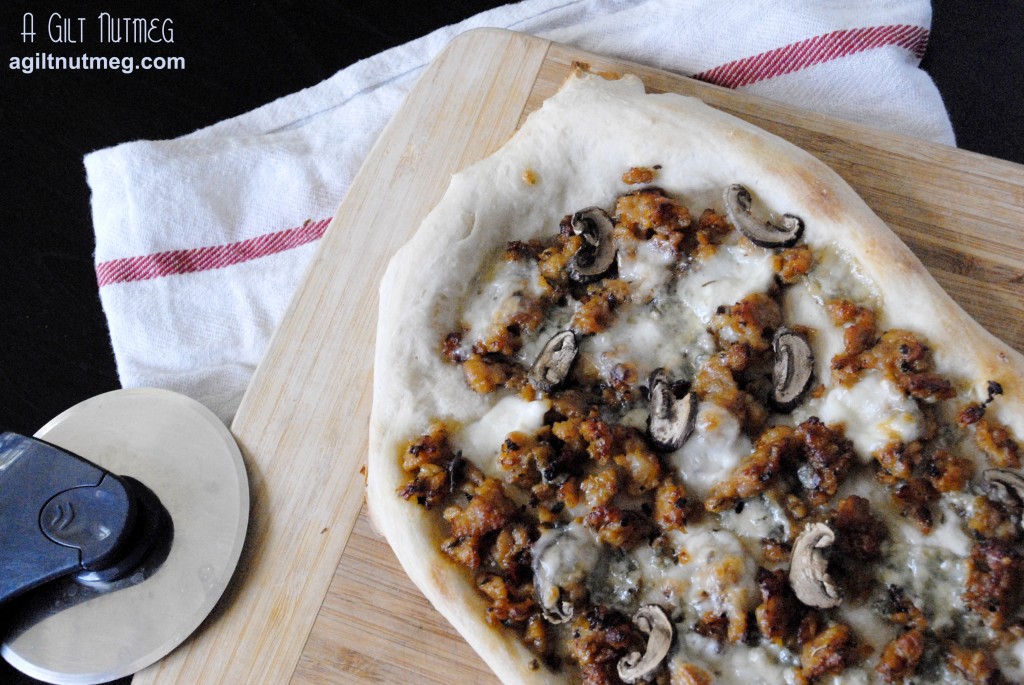 Last month I had the great pleasure and honor of making dinner for a number of friends from college who had come to visit from the East Coast.  I wanted something to serve that would be fun and that would cater to everyone's different tastes, but that would also be fast and enable me to wander back and forth from the kitchen to chat.  I decided on pizza night, which definitely meant fast, wouldn't break the bank, and allowed me to get creative.   We ended up with 4 different types of pizza:  Traditional Margarita, Rosemary & Red Potato, Roasted Veggie and Hummus (recipe to come!), and Bleu Cheese, Sausage & Crimini Mushroom.  All four were a hit!
This pizza was definitely the most hearty of the four.  The flavors are all strong, but work together instead of competing on your taste buds.  Pizza is one of those great recipes that you can whip up in no time and get on the table within minutes of starting, and this recipe is definitely going into normal rotation for pizza night.
Bleu Cheese, Sausage & Crimini Mushroom Pizza
Makes 2 small-medium pizzas
1 package of Trader Joe's refrigerated pizza dough
2 chicken sausages, casings removed (I chose Trader Joe's Sweet Italian Chicken Sausage)
1 teaspoon dried oregano (optional)
Garlic infused olive oil (optional)
1/2 cup Crimini mushrooms, sliced
1/2 cup bleu cheese crumbles
1 container Bocconcini (small mozzarella balls in water), sliced or 1 large ball of fresh Mozzarella, sliced (just don't get the shredded bagged kind)
Place an unrimmed cookie sheet in your oven or place a rimmed baking sheet upside down on the rack in your oven.  Heat the oven to 500 degrees with the sheet inside.
While the oven is heating, remove the casings from the sausage and fry it up in a pan, breaking up the sausage into small pieces.  At this point, I added about 1 teaspoon of dried oregano to the sausage in the pan, because I felt it could do with a little more flavor, but this is entirely up to you and the sausage you chose.  When fully cooked through, move the sausage to a plate covered in a thick stack of paper towels so that the grease can drain.
After the oven is good and hot (about 30 minutes), remove the cookie sheet and put it on a heat-safe counter, but leave the oven on.
Break the pizza dough into two even pieces and stretch the first piece out gently with your hands, letting gravity do most of the work.  I always prefer this to rolling it out with a rolling pin, but you will absolutely end up with an oddly shaped pizza this way-I think it gives it character.
Gently lay the stretched pizza dough onto the hot baking sheet (the goal here is to get the bottom of the crust baking first while you top the pizza, so that the dough cooks more evenly.  If you have some of that garlic infused olive oil, brush about a tablespoon or two over the crust.
Sprinkle on about half of your sausage, half of your mushrooms, half of your bleu cheese and half of your mozzarella on top of all of that (adding the mozzarella last will help the toppings stick to your pizza better).  Of course, adjust to your tastes.  I like a little less of the bleu cheese, as it's a super strong flavor.
Return the baking sheet with the pizza now assembled on top to the oven and let it bake for 10-15 minutes, until the crust is starting to turn golden brown and the mozzarella is bubbly and also just starting to brown.
Let cool for 5 minutes before cutting with a pizza cutter and enjoy!