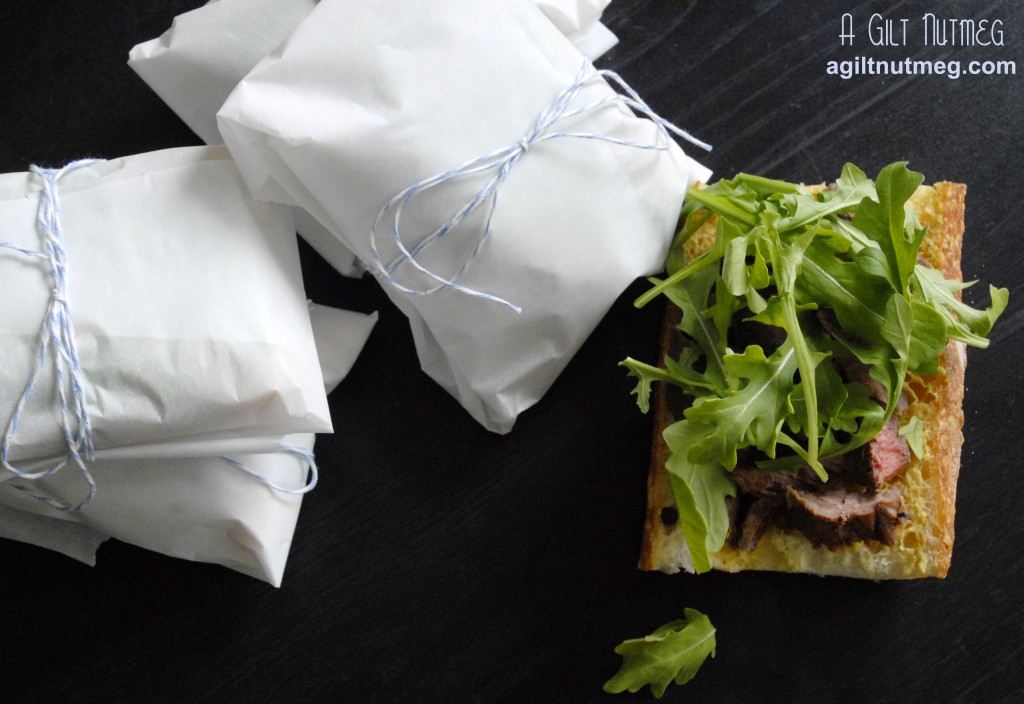 Serves me right for thinking I might have a relaxing weekend for once.  Thursday night rolled around and The Boyfriend's Dad asked how I might feel about filling a basket for a picnic lunch for Mother's Day.  Of course I can't say no to that!  I spent the next few days trying to decide what I might make that would be okay at room temperature for a little while and that would pack nicely for travel.  I am proud to say that the lunch was a success and that I was able to make some of my favorite foods to share with them on Sunday and now with you.  First up on the list are these incredibly simple Steak & Arugula Picnic Sandwiches.
Your first step above all is to find a great bread.  I was standing in line at 9am waiting for the doors to open at the world famous Bay Cities Deli on Sunday morning.  I think that walking out of the store 5 minutes later with a loaf of crunchy chewy Italian bread still warm and fragrant from the oven was one of my favorite food moments in recent memory.  After that, the rest is a snap; this steak is one of the very first recipes I ever posted on this blog and beyond that it just involves slathering on some good mustard and piling on the arugula.  Because they're open faced (no top piece of bread), they're just the right amount of filling when you pair them with a few sides instead of overstuffing yourself…because who wants that on a picnic?  Wrap it all up in parchment paper, tie it with baker's twine and these sandwiches are super portable without worry about crushing them.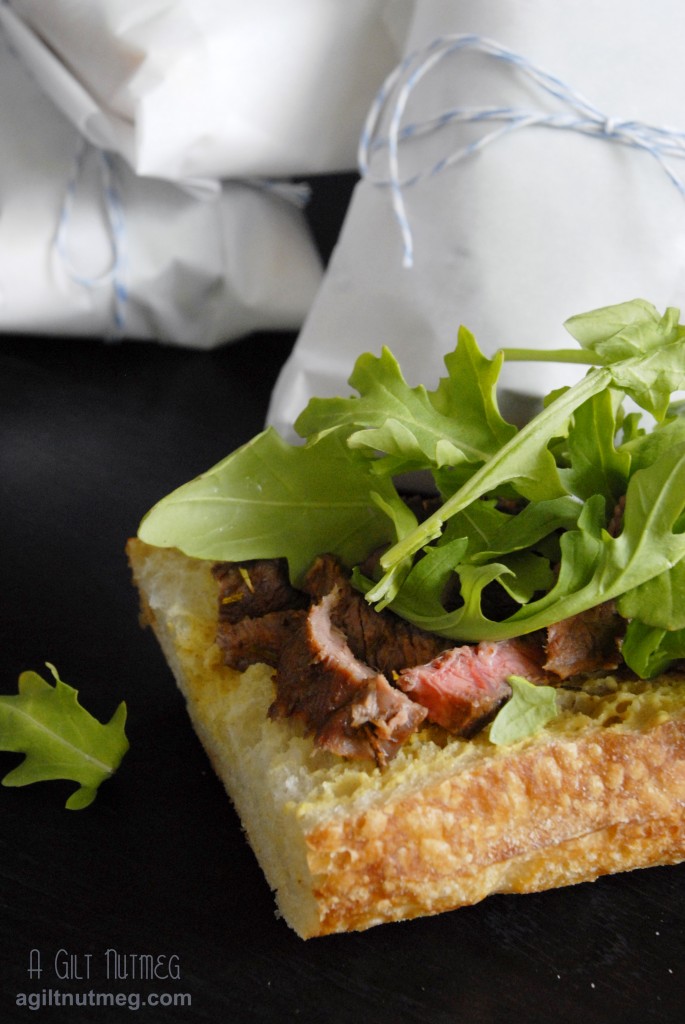 Steak & Arugula Picnic Sandwiches
Adapted from Martha Stewart Living, July 2009
Serves 4
One loaf of high quality sandwich bread or two 6″ rolls
Approximately 2 cups of arugula
Your preferred mustard (I like a spicy Dijon)
One recipe of Marinated Balsamic Skirt Steak (below)
Steak
1/2 cup balsamic vinegar
1/4 cup soy sauce
2 tablespoons brown sugar
4 garlic cloves, sliced
1 tablespoon dried rosemary
Coarse salt and ground pepper
1 pound skirt steak
Poke the steak all over with a fork, then combine the steak ingredients in an airtight container at least 30 minutes prior to cooking, if you're in a rush, or put them together the night before and stick them in the fridge so that the flavors can combine.
When ready to cook the steak, set the oven to Broil (or 500 degrees), line a rimmed baking sheet with aluminum foil and lay the steak flat on the prepared pan.
Broil the steak 3 minutes on each side for medium; cook an extra minute or so on each side for more well done.
When the steak is done to your preference, pull it out of the oven, move it to a platter and let it cool for at least 15 minutes.
When cool, slice the steak against the grain (you don't want chewy meat on a sandwich), removing any excess fat along the way.
Slice the bread roll in half lengthwise and then cut the halves into 6″ portions (cut the rounded ends off, too).
Spread mustard over the bread, pile the meat on top and then the arugula.
Wrap sandwiches in parchment paper, tape or tie them shut and put them in the picnic basket to enjoy!