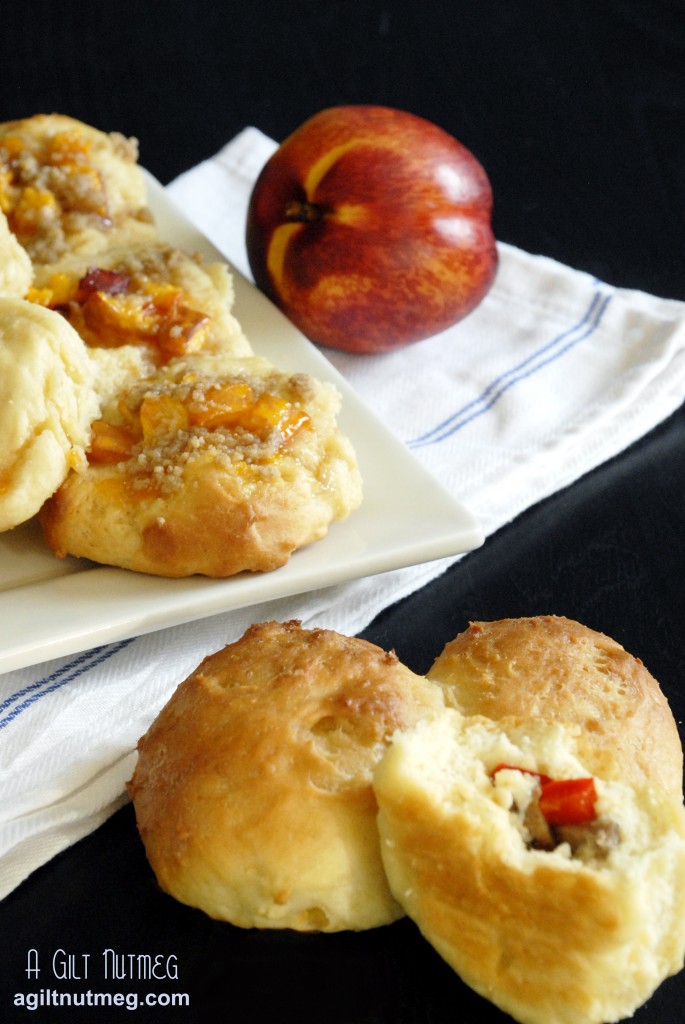 Being a part of a family that very proudly celebrates our Slovak heritage, I was fascinated to hear about Texas' love affair with kolache, a Czech pastry.  Even better, kolache is a strongly featured recipe in The Pastry Queen—I'm so glad that I was able to circle back around and make it before Project Pastry Queen was officially over.  My biggest problem, it turns out, was just figuring out how to say the darn thing!  The world wide webiverse told me it was "ko-losh" or "ko-losh-ee".  Enlisting the help of a Czech coworker, she said it was "ko-lotch-ee".  I guess, in the end, it doesn't matter, because—even though I'm still uneasy with all bread-making activities—these were mostly successful.  I've never eaten one made by someone else, so I don't have anything to compare them to, but I can say that the dough is sweet and tastes very close to my favorite Cantonese Dim Sum BBQ Pork Filled Buns, albeit a little bit denser.  I know it's a strange comparison, but in the end, it's a small world, after all.
I split the recipe into half and made one half open-faced with nectarines, apricot jam, and brown sugar streusel.  The other half had the dough wrapped around a red bell pepper and sausage filling so that the filling was hidden inside.  I will say that I definitely have to work on my technique—as we all know here, bread dough and I don't get along, so the nectarine kolache weren't so much perfect little deep wells of fruit, but instead the fruit kind of hovered on top.  I also would add more of the savory filling next time because you can, obviously, never have enough sausage.  Overall, though, they were great!  The dough didn't require any kneading, so, even though mine weren't perfectly beautiful, I still recommend this recipe to anyone wanting to try yeast breads.  You literally just mix the dough, then stick in the fridge till morning and voila!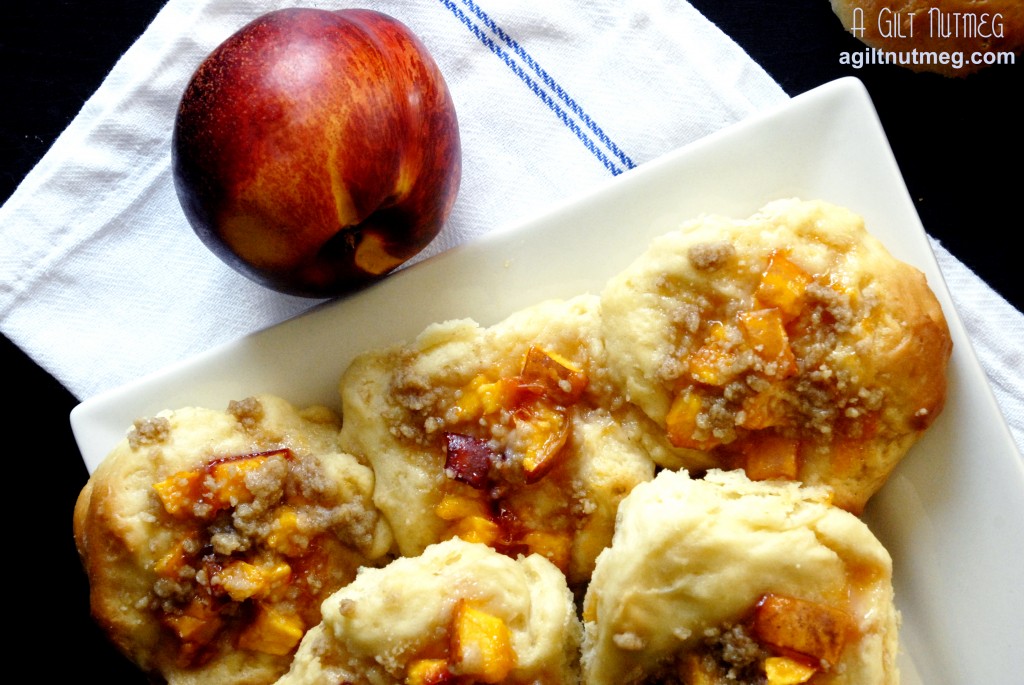 Kolache
Makes 16-18 kolache
Dough adaptation directly from The Foodie Bride
Fillings inspired by The Pastry Queen
Dough (for a full recipe - 16-18 kolache)
1 package (2 1/4 tsp) active dry yeast
1/4 cup water, warmed to 110-115F
1 cup milk, warmed to 110-115F
4 Tbsp butter, melted and cooled to warm
2 large eggs
5/8 cup sugar + 1 teaspoon sugar
1 tsp salt
4 1/4 cups flour
Red Bell Pepper & Sausage Filling (for a half recipe - 8-9 kolache)
1 cup cooked sausage, chopped (I used a chicken sausage)
1 cup red bell pepper, chopped
Nectarine-Apricot Filling & Streusel (for a half recipe - 8-9 kolache)
1 large nectarine, chopped
1/4 cup apricot jam/jelly, melted
2 tablespoons flour
2 tablespoons brown sugar
2 tablespoons chilled butter
Add your warm water to your mixing bowl (or bowl of stand mixer) and stir in 1 teaspoon sugar..  Sprinkle yeast over the sugar water mixture and let stand 5 minutes until foamy.
Add milk, butter, eggs, sugar and salt to bowl and mix on low until ingredients are thoroughly incorporated.
Also on low, mix in half of the flour, wait until its incorporated, then mix in the second half of the flour, mixing just until incorporated.  My dough was pretty lumpy looking and, truthfully, I'm not sure if that's how it's supposed to look or not.
Let the dough rest 1-2 hours, until doubled in size.  Punch the dough down (deflate it) and then cover it with plastic wrap and stick it in the fridge overnight.  If you're in a rush, 4 hours is enough, but who doesn't want the ease of just throwing something in the fridge and not worrying about it until morning?
When ready to start, heat the oven to 375, line a baking sheet with parchment paper (or use non-stick spray) and divide the dough into balls.  They'll be a bigger than golf balls, about 2 1/2″ wide.  Shawnda helpfully points out that the balls should weigh about 2.5 oz each.
Let the dough rest for 15 minutes while you prepare the filling ingredients- make sure the bell pepper and sausage is chopped; combine the warmed apricot jam in a bowl with the chopped nectarine and stir to coat the nectarine.  You could easily make the streusel topping in a food processor, but it's such a small amount that I just tossed the flour, brown sugar and butter into a mixing bowl and mushed it around with a fork and a butter knife until it was well combined and crumbly.
If making sausage kolache, flatten out the balls of dough, press about a tablespoon of filling into each round of dough and then wrap the dough over the filling, pinching it shut.  Arrange the balls of dough with the seam side down on the baking sheet and arrange so that the balls are just an inch or so apart.
If making open faced nectarine kolache, slightly flatten the balls and then poke a little well into the dough.  Fill the well with a tablespoon or so of fruit filling, then sprinkle the streusel topping over each one.  Arrange on the baking sheet so that the edges are just touching.
Let the prepared kolache rest for 20 minutes or so and then bake for 20-25 minutes until golden brown on top.  I brushed some melted butter over the tops of the kolache warm from the oven, but that's up to you.
Serve warm and enjoy!