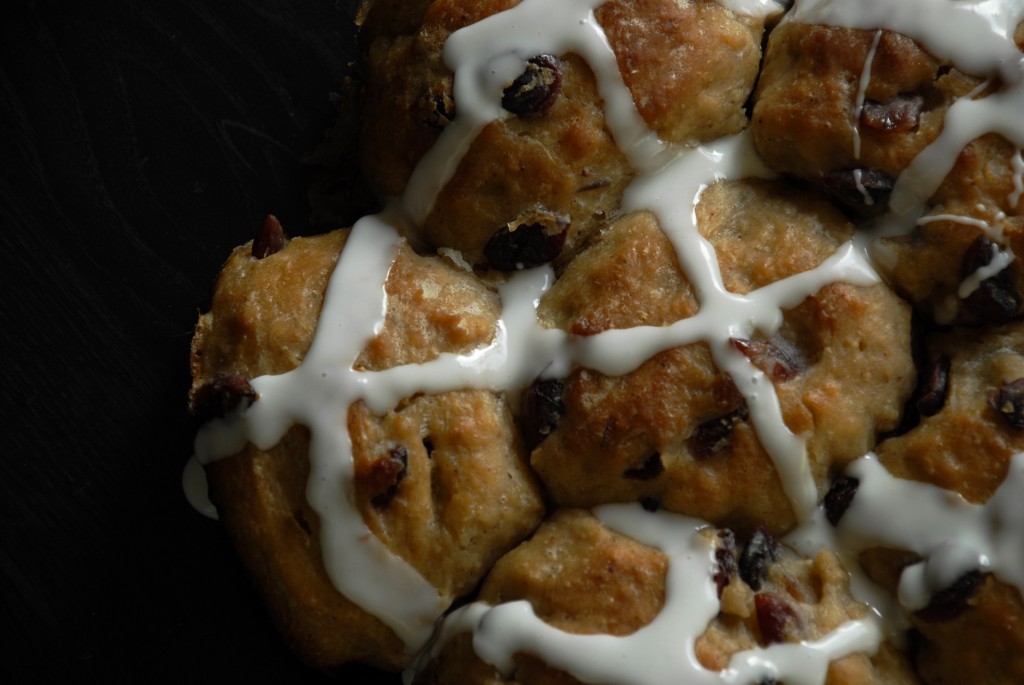 So I have to admit something to you: these hot cross buns for Good Friday this week didn't turn out the way I had hoped.  And since this blog is supposed to be inspirational, I want you to know that it's okay to mess up in the kitchen as long as it's in the spirit of trying something new.  For some reason, my cooking nemesis is yeasted bread and rolls (and meringue, but we're slowly, cautiously becoming friends) and I will not give up until I get it right.  I don't know what the problem is, be it too much flour or not enough flour or rising temperature or sub-par kneading skills, but my bread almost always turns out heavy and dense.  The only yeasty bread item I've ever made to satisfactory standards (and delicious standards) was my Fat Tuesday King Cake.  Once I save up a few pennies, I think I'm going to take a class on yeast breads just to make sure I understand the proper technique .
At least with these buns, I know what a big part of the problem was-I was softening butter in the microwave and completely forgot to take it out and add it to the dough.  Oops.  Oh well.  I also don't have a stand mixer or bread machine so I may not have kneaded long enough.
I've posted the original recipe from King Arthur Flour below for you to try yourself.  I will say that, though the texture wasn't right (again, my fault), the flavor is delicious.  Instead of raisins, currants, and all the extra dried fruit, I stuck to just a 1/2 cup (I made a half-recipe) of rum-soaked dried cranberries; it went beautifully with the spices in the buns and the whole house smelled like my favorite tiki bar- the scent of spiced rum was hanging in the air in an exotic way.  The boyfriend admitted these buns weren't my best effort, but then he ate three of them, so I clearly got SOMEthing right and I think it was those flavors.
Hot Cross Buns
Adapted from King Arthur Flour
Makes 12-14 buns
1/4 cup dark rum (or apple juice)
1/2 - 3/4 cup dried cranberries
1 1/4 cups milk, room temperature
3 large eggs, 1 separated
6 tablespoons butter, room temperature
2 teaspoons instant yeast
1/4 cup light brown sugar, firmly packed
1 teaspoon ground cinnamon
1/4 teaspoon ground cloves
1/4 teaspoon ground nutmeg
1 3/4 teaspoons salt
1 Tablespoon baking powder
4 1/2 cups flour
Glaze
1 tablespoon of milk + the egg white from the egg separated above
Icing
1 cup + 2 Tablespoons confectioners' sugar
pinch of salt
4 teaspoons milk, or "enough to make a thick, pipeable icing"
Lightly grease a  9 x 13″ pan.
Put the rum and cranberries in a bowl and let them soak for about a half hour.  If you don't have the time to wait, put them in the microwave for about a minute and then let them cool before adding them to the dough.
Mix together the rest of the bread ingredients except for the fruit and knead in a stand mixer or bread machine until soft and elastic.
Add the cranberries and any rum that wasn't soaked up to the dough and mix until incorporated.
Let the dough rise for an hour.  KAF warns, "It should become puffy, though may not double in bulk."
Divide the dough into 12-14 billiard ball sized pieces and arrange in the prepared pan.
Let them rise for another hour, until the balls are touching.  Preheat the oven to 375 degrees in the meantime.
Whisk together the tablespoon of milk and the egg white and brush over the buns before baking.  Bake for 20 minutes until golden brown; let cool on a wire rack.
Whisk together the icing ingredients and pipe them into crosses over each bun.  Enjoy!
Pin It