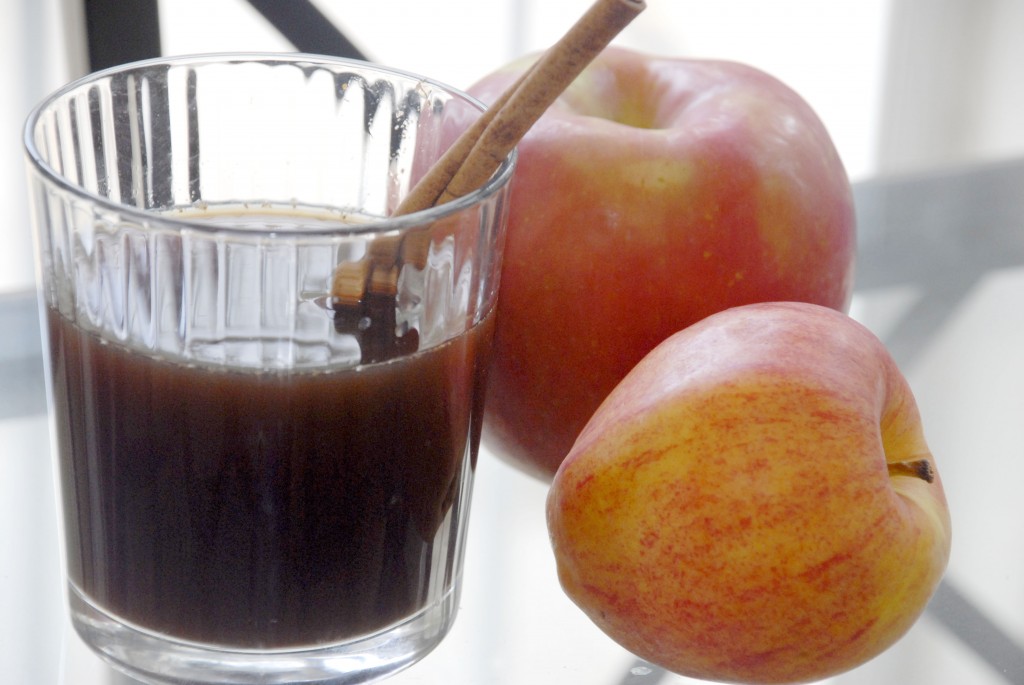 I write this to you with a still uncomfortably full belly, so I'm going to keep it short.  I hope everybody had a safe, delicious, wonderful Thanksgiving and that your fridge is now stocked with a bounty of leftovers-my favorite part of the holiday!  Since no one wants to even think about the kitchen, much less cook in it, so soon after the marathon cooking that comes with Thanksgiving, I offer up a recipe for a spicy drink that will go great with all of those turkey sandwiches you'll be eating over the next few days.
Spiced Pomegranate Apple Cider just needs to be thrown together in a pot and to simmer on the stove for a little while and a wonderful hot drink emerges with barely any effort on your part at all except to sit down and enjoy a steaming mug of it.  When looking up recipes for research, every site that mentioned pomegranate apple cider had pages and pages extolling the virtues of pomegranate as a super-food and an antioxidant, so if you care about that sort of thing, this cider is fantastic for you.  If you don't care about that sort of thing, it's just a delicious seasonal drink.
Spiced Pomegranate Apple Cider
1 part 100% pomegranate juice to 2 parts apple cider (I made mine 1 1/2 cups pomegranate to 3 cups cider)
2 cinnamon sticks
5 whole cloves or 1/8 - 1/4 teaspoon ground cloves depending on how spicy you like it
Combine all ingredients in a large pot.
Heat on medium heat until brought to a simmer.
Simmer for 10 minutes at least; you can simmer as long as you like, but just know that you'll be reducing the liquid the longer you simmer.
Serve and enjoy hot!