18 Jan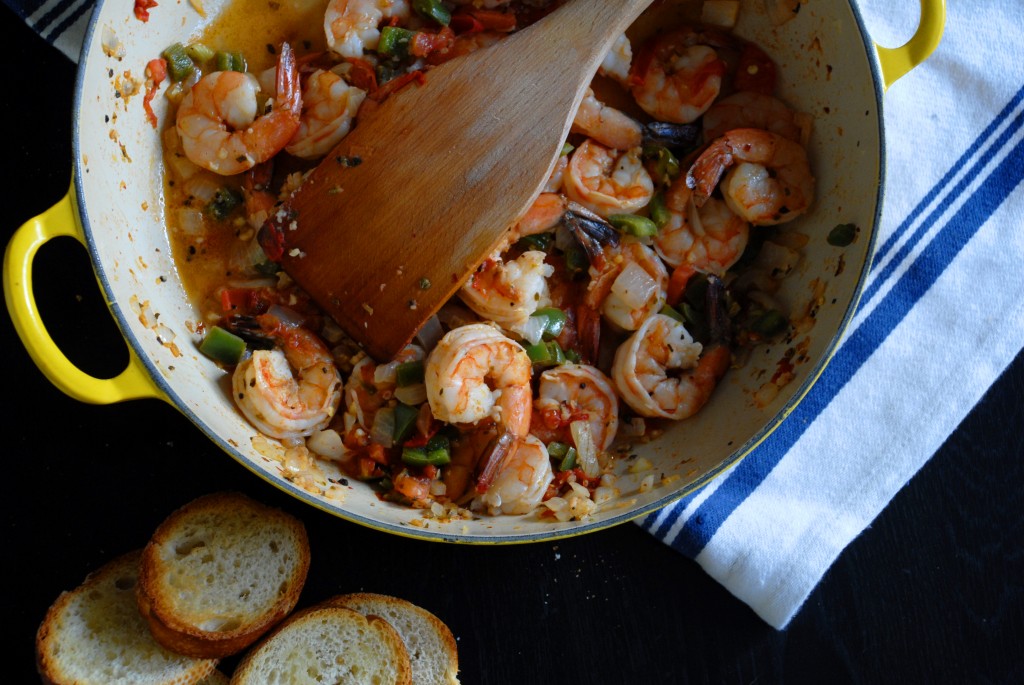 The Boyfriend had a very tough day.  So what else is a girl to do but put his favorite classical music on, light the candles, and greet the poor guy with the dish in the picture above?  To top it off, I still had one more creme brulee left in the fridge.
If you're looking for a super easy dinner, look no further.  It basically involves chopping things and throwing them in a pan to cook until done-that's it!  It's a delicious, satisfying meal despite the fact that I didn't even pair it with any side dishes-just the crusty toasted bread for soaking up those delicious juices.  I think my favorite part is the spice that the jalapeno adds because it doesn't hit you over the head with a crazy burning, but it does give a gentle yet firm heat that really balances great with the cilantro and lime juice.  We actually just ate directly out of the pan so that we didn't lose a single ounce of the flavorful liquids and also to cut down on dishes because…if you saw my kitchen right now…well, you'd understand why.
Overall, I was just ecstatic with how this dish came out and I can't wait to finish up the leftovers for lunch tomorrow.  I can't imagine a more delicious, quick dish to spice up a weeknight!
Cilantro Lime Shrimp
Adapted from Lana's Cooking
Serves 2 and a half
1 tablespoon butter

1 tablespoon olive oil

3 cloves garlic, minced or put through a garlic press

1 medium onion, diced

1 jalapeno, diced (I left the seeds intact, which meant more heat.  If you want less spice, remove the seeds)

¼ teaspoon red pepper flakes

½ teaspoon Mexican oregano

2 Roma tomatoes, diced

1 lime

pinch of salt

a few grinds of black pepper

1 pound shrimp, shelled and deveined (I found it was MUCH cheaper to buy uncooked shrimp)

a few large pinches of fresh cilantro leaves
Add oil and butter to pan and heat over medium heat until melted and combined.

Add onion and saute for a few minutes before adding the jalapeno and garlic-be sure to have a few windows open and don't inhale the vapors unless you want burning nose and eyes (so much worse than onion tears!).

Cook until the onions start to turn translucent, a few minutes, and then add the red pepper flakes and oregano.

Add tomatoes and cook until soft, about 5 minutes.

Zest the lime over the pan and then slice it into halves or quarters and squeeze the juice into the pan; add the salt and pepper.

Add the shrimp and cook until just opaque-overcooking is easy, which is why I prefer purchasing uncooked shrimp (if it's so easy to overcook, you don't need a head start!).  The shrimp did take longer to cook than I expected, so I put the lid on and just let it cook, checking frequently to make sure I took it off the heat the instant the shrimp were all pink.

Toast some bread (I sliced a baguette) brushed with some butter or olive oil under the broiler and enjoy!