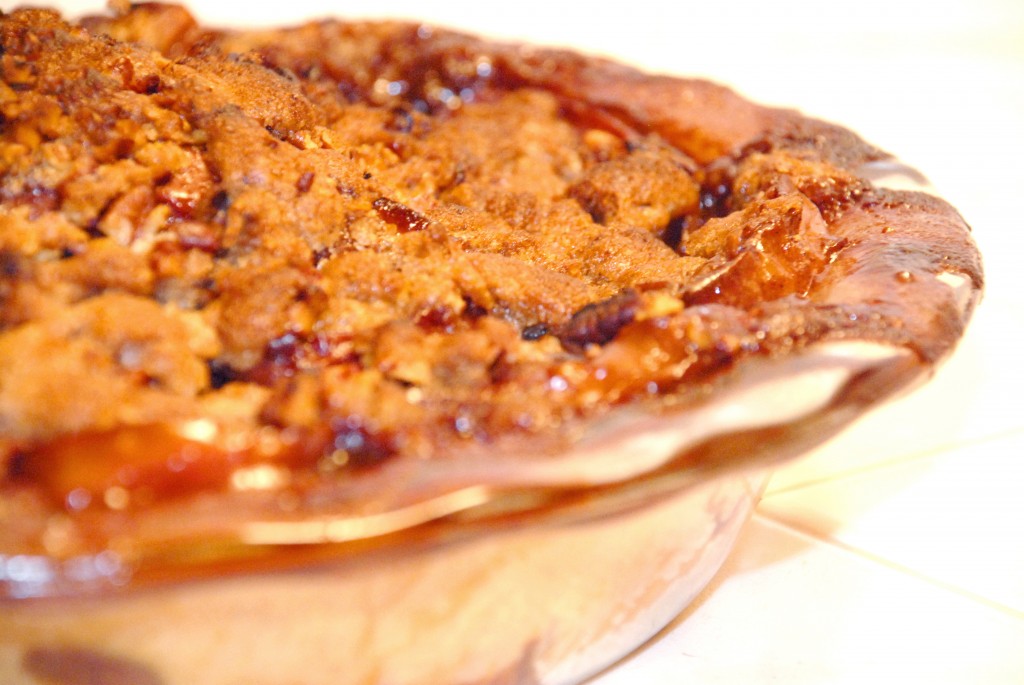 You probably have a favorite apple pie recipe.  You should probably throw it out the window and replace it with this one.  The process, I admit, is slightly more involved than your average apple pie recipe, but it is absolutely worth it.  There's apples, Southern Comfort, caramel, an overabundance of cinnamon…really, I hope that old recipe of yours is on the ground outside your window by now.
As I mentioned previously, I made this for a group of friends along with the Pumpkin Pie, but this pie was without a doubt the winner of the night.  There are only two tiny issues I had with this pie: 1) the caramel filling overflowed a great deal, but I'm sure that if the pie had a well-sealed full top crust instead of just a crumble topping, this wouldn't have been as big a problem-good thing we had a pan on the rack below, or else I'm guessing we would have had to pay to have the oven cleaned in the place we had rented!… and 2) good Saigon Cinnamon is $8 at my grocery store and I had just purchased a new bottle.  This recipe cleaned out at least half the bottle and then some!  That said, I think the strong spicy cinnamon really made this pie the wonder that it was, so chintzing on mediocre cinnamon is a crime against this pie.
In the end, though, this is another recipe to save for Thanksgiving and I promise you'll barely be able to sit through dinner before diving into this pie!  Like the Pumpkin Pie, I did cheat and use a store-bought crust that was too small for my deep dish pie plate, but if you're looking for a homemade pie crust recipe, see my Bourbon Honey Peach Pie. 
To see how other members of Project Pastry Queen fell in love with this pie (I think it was unanimously love-at-first-bite), check them out here!

Southern Comfort Apple Pie
The Pastry Queen by Rebecca Rather
Topping
1/2 cup chopped pecans

1/3 cup sugar

3 tablespoons dark brown sugar

1/2 teaspoon ground cinnamon

1/4 teaspoon salt

1/3 cup all purpose flour

1/3 cup chilled unsalted butter
1 unbaked pie crust
Filling
5-6 medium size tart apples

1/2 cup unsalted butter

3 tablespoons ground cinnamon

1 cup sugar

3/4 cup Southern Comfort liqueur

1/2 cup heavy cream
To Make the Topping:
Preheat the oven to 375 degrees.

In a food processor, process both sugars, the cinnamon, salt and flour for about 1 minute.

Cut the butter into small pieces and add to the sugar-flour mixture.  Pulse about 10 - 15 times, until the mixture is crumbly.  DON'T over-process!  Mine turned into a big hunk of dough because I pulsed a few extra times and then thought "oh, if I keep pulsing, the blade will cut up the mixture into tiny pieces again."  I don't know where that logic came from because the opposite is true and I knew it.  I just stuck the mixture back in the fridge and crumbled it up with my fingers later.

Stir in the pecans (and don't try tasting it, because I made this mistake and may have ended up eating a quarter of the bowl of topping).  Refrigerate until ready to use.

Line a 9″ deep-dish pie plate with pie dough.  Press it into place and crimp the edges.
To Make the Filling:
Peel, core, and cut the apples into 1/4″ thick slices (I used one of those handy apple slicers and just cut each resulting slice in half).

Melt the butter in a large skillet over medium-high heat.  When the butter starts to foam, add the apples and saute for 5-8 minutes (I had to somehow do mine in two batches because my 10″ skillet wasn't large enough.  Either do two skillets at once, splitting the ingredients evenly between the two or be ready to clean up the mess you make on the stove spilling apples out of the pan).

In a small bowl, stir together the cinnamon and sugar; sprinkle it on the apples and stir to combine.  Simmer the apples for another minute.

Remove the apples from the skillet with a slotted spoon and onto a baking sheet, leaving as much of the butter-sugar-apple juices mixture in the pan as possible.  Make sure the apples are spread out in a single layer or else they'll steam and get all mushy.

Pour the Southern Comfort into the butter-sugar mixure in the pan.  Simmer the mixture over medium heat for at least 5 minutes, until the alcohol burns off (it shouldn't sting your nose if you sniff the steam rising from it).

Add the cream and continue cooking for 5-10 minutes until the mixture is thick as pourable caramel.

Add the apples back to the skillet and toss the apples with the caramel sauce until evenly coated, then pour contents of pan into the unbaked pie crust.

Sprinkle the crumble topping evenly over the apples and transfer dish to oven, making sure there is a tin-foil lined baking sheet on the rack below the pie to catch any juices that bubble over (if there's a lot, the oven may smoke, which is okay as long as your pie doesn't burn and the fire alarm in your house doesn't go off).

Bake for 50-60 minutes until the filling is bubbling and the topping is brown.

Serving warm with ice cream or cooled off after dinner or however you may decide to enjoy it!