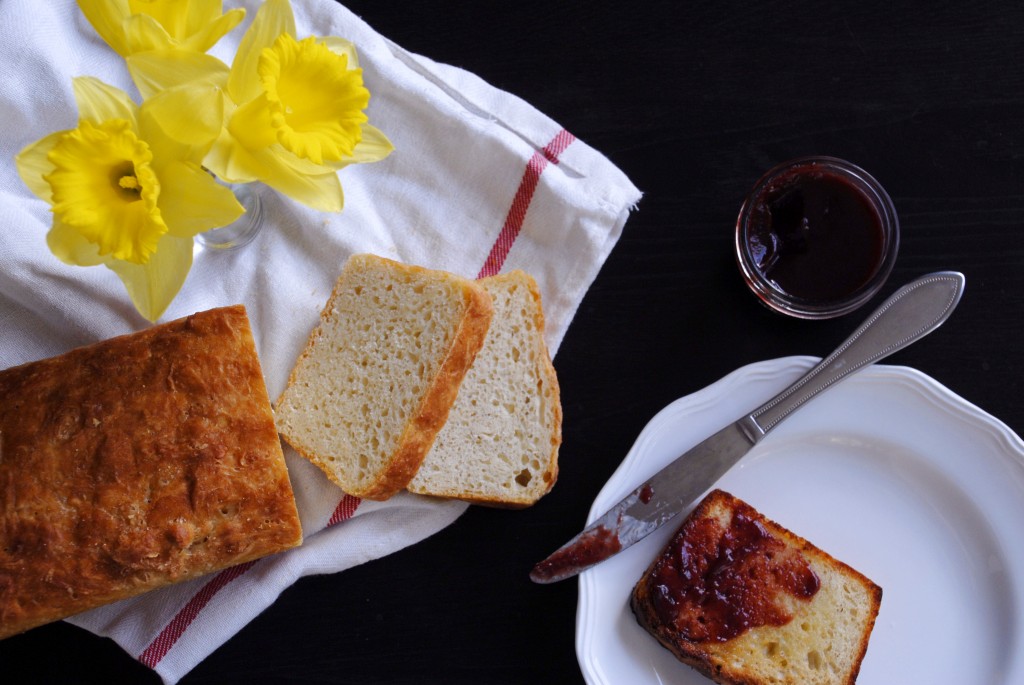 A true testament to this recipe:  I made it two days ago and ever since have been desperately craving another slice.  I will admit right off, as I was wrapping up the bread after it cooled, I was thinking, "how on earth can this be good?  It just seems so dense and unappetizing…"  but the next day I sliced it and toasted it and spread it with butter and my plum jam and ohmigoodness.
It's certainly not a light airy French bread, but what I thought was totally dense and unappealing (even after slicing it and dubiously putting it in the toaster), ended up being perfectly chewy and crispy and craggy in all the right places, just like an English muffin.  And like I said, I can't stop craving it!  It comes together with minimal effort and barely any dirty dishes, so that's always a plus in my book.  A nice toasted slice with fruit or honey on top would be perfect for a weekend spring morning, sitting in the sunshine and listening to the birds chatter (at least that's how I envision a perfect morning…).
English Muffin Bread
Adapted from One Good Thing
Makes 2 loaves
coarse corn meal for dusting the pans
2 3/4 cup warm water (105-110 degrees)
1 1/2 packages

rapid rise

yeast
1 Tablespoon salt
1 1/2 Tablespoons sugar
5 1/2 cups flour
2 tablespoons melted butter to brush on loaves later
Spray two loaf pans with non-stick baking spray and dust the insides with coarse cornmeal (just like a real English muffin!).  Shake the pan around until evenly coated as best you can get it, then dump the excess out.
In a large bowl, combine all of the remaining ingredients except for the butter and mix just barely until all of the ingredients are combined.  (Jillee of One Good Thing showed a picture of her batter and it was very very sticky, much stickier than mine, so don't worry if it's sticky-don't add extra flour)
Divide the batter-dough between the loaf pans and use a spatula to smooth out the surface.
Preheat your oven now to 350 degrees, or later depending on how long it takes for your oven to heat.  Place the loaf pans in a warmish spot in your kitchen, cover with a kitchen towel, and let the dough rise until it reaches the top of the loaf pans.  This took about an hour and 20 minutes for me.
Bake the loaves for 35 minutes, brush the top of the loaves with the melted butter, and bake for another 5-10 minutes until the tops are perfectly golden brown.
Take the loaves out of their pans and let them cool on a wire rack.  Resist the urge to slice and eat them now; allow them to cool 100% completely.
When ready to eat, slice thickly and toast.  Top with butter, jam, honey, fruit, whatever sounds good to you, and enjoy!