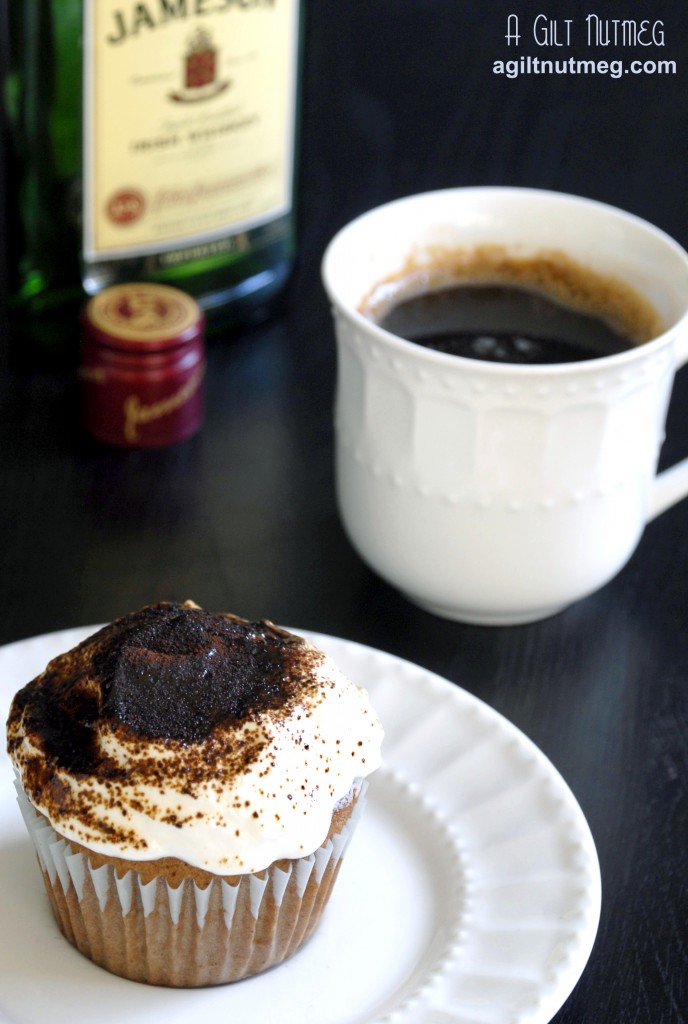 St. Patrick's Day is almost upon us!  and since the holiday is celebrated (at least here in America it is) by drinking as much alcohol as possible, let's go with one of the classier options, Irish Coffee, and turn it into a cupcake.   Irish Coffee was first introduced in the U.S. by the Buena Vista, a bar in San Fransisco that I have had the pleasure of having breakfast at before.  It's got a beautiful view from the windows, but the best view, in my opinion, is of the bar where tuxedoed bartenders expertly make Irish Coffee after Irish Coffee.  Strong brewed coffee, sugar, Irish whiskey and to top it off, whipped cream is ever so carefully floated on top.  You definitely have to be trained for years in order to make the perfect cup of Irish Coffee.
Martha Stewart created a fantastic cupcake version of this drink: a brown sugar coffee cupcake and an Irish whiskey spiked whipped cream topping.  The whipped cream on top creates an especially light yet flavorful finish to the cupcake and the espresso powder dusting adds just a touch of bitterness (I would go lighter than I did with the espresso powder-I had a slip of the hand).  The perfect way to celebrate the holiday!
 Irish Coffee Cupcakes
From Martha Stewart
Makes 15 cupcake
2 cups all-purpose flour
1 teaspoon baking powder
1/4 teaspoon baking soda
1/4 teaspoon salt
1/2 cup boiling water
2 tablespoons instant-espresso powder
1/4 cup whole milk
1 stick unsalted butter, room temperature
1/2 cup granulated sugar
1/2 cup packed light-brown sugar
2 large eggs
1 cup heavy cream
1 tablespoon confectioners' sugar
1 tablespoon whiskey
Instant-espresso powder, for dusting
Heat oven to 350 degrees.  Prepare muffin tins by putting 8 cupcake papers in one tin and 7 papers in another tin.
Whisk together flour, baking powder, baking soda, and salt.
Pour water over the espresso powder and let cool. Mix espresso in with milk.
Beat butter and granulated and brown sugars with a mixer on medium speed until pale and fluffy, about 3 minutes.
Add eggs, 1 at a time, beating well after each addition.
Beat in flour mixture in 3 additions, alternating with espresso-milk mixture, beginning and ending with flour, until thoroughly combined.
Evenly divide the batter among the 15 papers.  Bake until a toothpick inserted into the centers comes out clean, 20 to 22 minutes. Let cool for a few minutes, then take the cupcakes out of the tins and let them cool on a wire rack.  They must be totally cool before adding the whipped topping or else the topping will melt.
To make the frosting, beat together the cream and confectioners' sugar until medium peaks form. Add whiskey then beat until slightly stiff peaks form.
Top each cupcake with 2 tablespoons frosting; dust with espresso powder.  Enjoy!