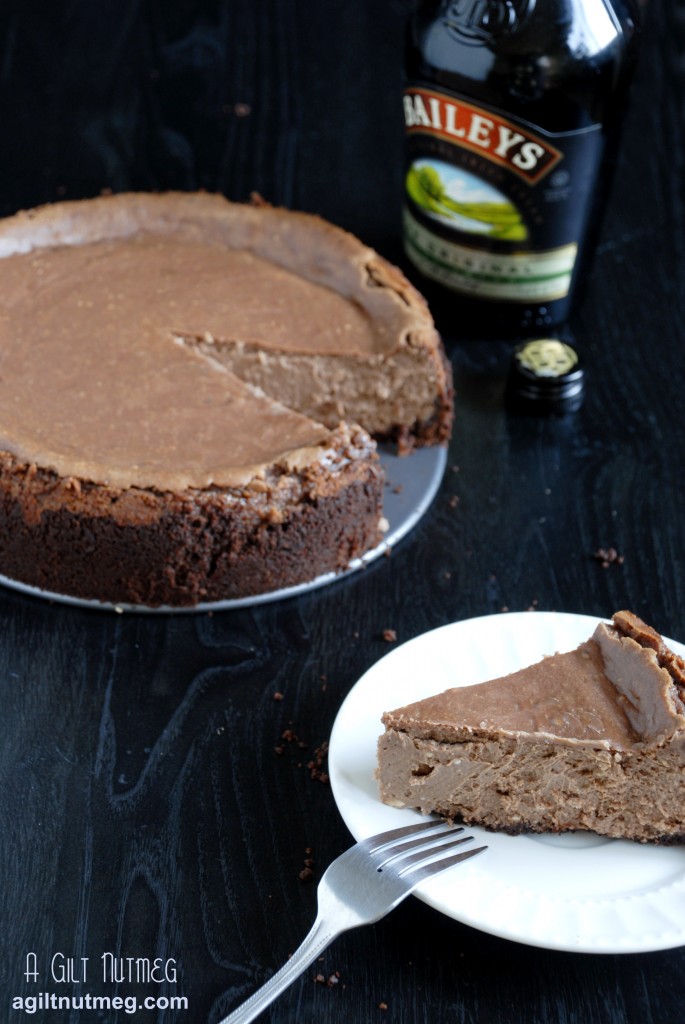 Happy Day Before St. Patrick's Day!  Continuing with our love for the various gifts of food and drink Ireland has shared with us over time, I give you Chocolate-Baileys Cheesecake.  Having made it, I'm pretty sure that this will not just be a St. Patrick's Day tradition, but a year-round tradition because it's just that good.  The chocolate and Irish Cream meld together perfectly for a dessert that will keep you sneaking forkfuls from the fridge when you think no one is looking (but since my roommate is out of town this weekend, the only one around to judge me sneaking to the fridge are the kitchen cabinets and, frankly, I don't care what they think).
And just when you think the combination of Baileys and chocolate couldn't get any better, there's a touch of cinnamon thrown into the crust which just sends this dessert over the top.  The original recipe calls for chocolate wafer cookies and everyone in the comments on BHG insists that they're easy to find, but I didn't find a single plain chocolate cookie in my store but one: Teddy Grahams.  And I love Teddy Grahams, so I was happy to use them.  I used the 1 1/2 cups of crumbs the recipe called for, but I didn't get the tall perfect crust like BHG does, so I suggest using the whole box of Teddy Grahams.
Happy St. Patrick's Day, everyone!
Chocolate-Baileys Cheesecake
Adapted from Better Homes & Gardens
1 box of chocolate Teddy Grahams, ground to fine crumbs

7 tablespoons butter, melted
1/2 teaspoon ground cinnamon
3 packages (8 oz) cream cheese, softened
1 container (8 oz) sour cream
1 cup sugar
8 oz semisweet chocolate, melted and cooled
3 eggs
1/2 cup Baileys Irish cream liqueur
2 tablespoons heavy cream
2 teaspoons vanilla
Heat the oven to 325 degrees.
Combine the cookie crumbs, melted butter and cinnamon in a small bowl until thoroughly combined, then press the crumbs into the bottom and up the sides of a 9″ springform pan.
In a large bowl, beat the cream cheese, sour cream, sugar and chocolate together on medium speed until smooth.
Add the eggs and beat on low-medium until just combined.
Add the Baileys, cream and vanilla and stir in with a wooden spoon (I suspect this is because using an electric mixer here would splatter EVERYWHERE)
Pour the filling into the springform pan and bake for 50-60 minutes until the center is just set.  It's hard to describe exactly what that looks like, but I guess the only way to say it is that even though the top was baked, it jiggled around when I shook it as if the top were sitting on something slidey.
Cool on a wire rack for 30 minutes, then slide a thin sharp knife around the edge to separate the crust.  Let it cool for another hour and then stick it in the fridge for at least 6 hours.  I made mine the night before so it was ready for the next day.  Enjoy!