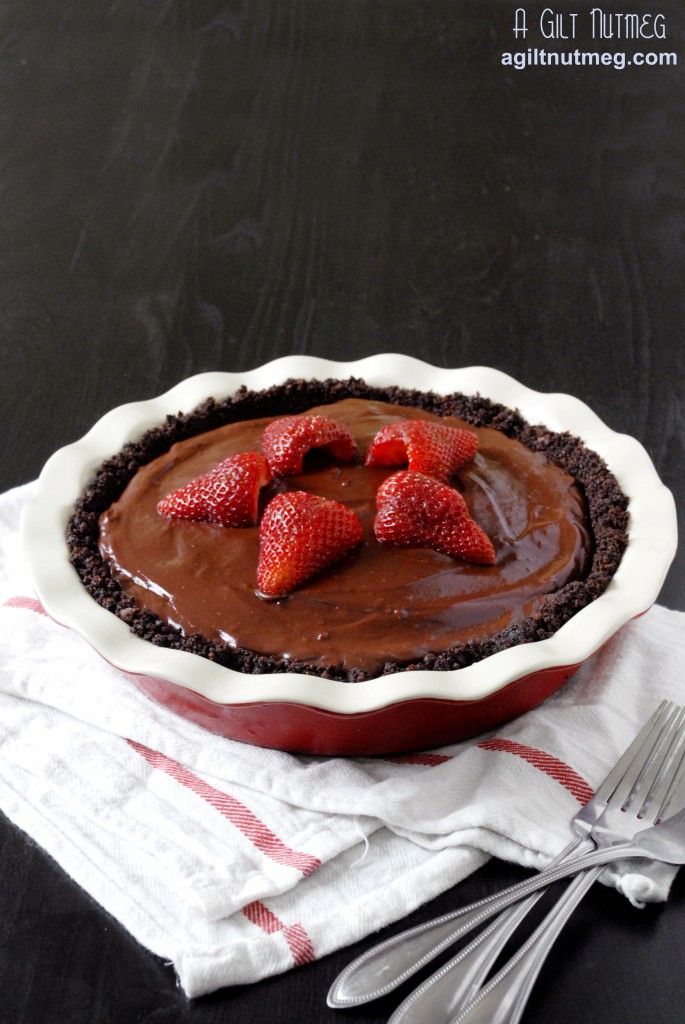 I have been waiting to make this pie for almost 2 months.  I bought the strawberries and the cookies for the crust…then too much time would pass, I'd have to eat the strawberries that were about to go bad and go buy more while the cookies sat patiently unopened on the counter.  Repeat this scenario three or four times.  Last night, though, the stars aligned and I finally was able to make this perfect combination of chocolate and strawberries.  Because it's a chilled pie, it's great for the hot summer nights coming up and Lindsay, of Love and Olive Oil, who created the recipe, included some unusual flavors in the rich chocolate.  It has a touch of ginger and nutmeg that plays on your tongue in that first bite and as the pie warmed on the counter between rounds of slicing, we noticed the bourbon flavor became more pronounced.  And my favorite part, of course, were the strawberries.  You can't see it in the photo, but there's a whole layer of fresh, peak-of-ripeness strawberry halves lining the crust below that chocolate filling.  Expect to find me crying when strawberry season is over again in the fall.
Chocolate & Strawberry Pie
Adapted from Love & Olive Oil
For Crust:
6 tablespoons unsalted butter
1 ounce bittersweet chocolate, chopped
7 ounces chocolate wafer cookies, about 30 cookies (I used 1/2 Oreos left over from a previous recipe and 1/2 Trader Joe's Chocolatey Cookies.  Next time I'll use all Oreos for their deeper chocolate flavor and crunchier texture)
For Filling:
2/3 cup sugar
1/4 cup cornstarch
2 tablespoons unsweetened cocoa powder
1/4 teaspoon ground ginger
1/8 teaspoon ground nutmeg
Pinch of salt
6 large egg yolks
2 1/2 cups whole milk (I used 2 cups half and half and 1/2 cup of milk for a richer filling)
6 ounces bittersweet chocolate, chopped
1/2 tablespoon bourbon
1 teaspoon vanilla extract
1 pint strawberries, hulled and halved (or you can wait to cut them until just before you need them)
Spray a pie plate with non-stick baking spray and set aside.
Melt the butter in the microwave in a small, microwave safe bowl.  While the butter is still hot, add the chopped chocolate, let sit for a moment, then stir vigorously until the chocolate and butter are fully combined and the mixture looks like smooth chocolate.
Process the cookies in a food processor until all pieces of cookie are turned into crumbs; transfer to a medium mixing bowl.
Pour the melted butter-chocolate mixture over the crumbs and stir until the crumbs are evenly coated and moistened.
Press the crumbs into the pie plate and move the plate into the freezer for 30 minutes while you make the filling.
In a medium saucepan, whisk together the sugar, cornstarch, cocoa powder, ginger, nutmeg, and salt.
Add the egg yolks and whisk until the yolks are fully incorporated.
One half cup at a time, add the milk to the saucepan, mixing thoroughly each time before adding more.
Turn the heat on under the saucepan to medium and heat the mixture, whisking frequently, until thickened and boiling.  It will take a little time for it to heat up-10-15 minutes, but you'll find that once it hits temperature, it will all of a sudden and without warning, turn the consistency of pudding.  Once it reaches this stage, keep whisking as it is boiling for one full minute (be careful of your hands!  It splattered on me a little and boy did it hurt).
Turn off the heat and add the chocolate.  Wait for a minute, then whisk until the chocolate is fully melted and smooth.
Whisk in the bourbon and vanilla until fully incorporated.  Let the mixture sit for 5 minutes while you slice the strawberries, whisking occasionally.
Take the crust out of the freezer and line it with a layer of strawberry halves, arranged so you can fit in as many strawberries as possible.
Pour the filling over the strawberries and crust, smooth the top with the back of a spoon, add some strawberry decoration on top if you wish, and refrigerate for two hours before serving.  Enjoy!