20 Jul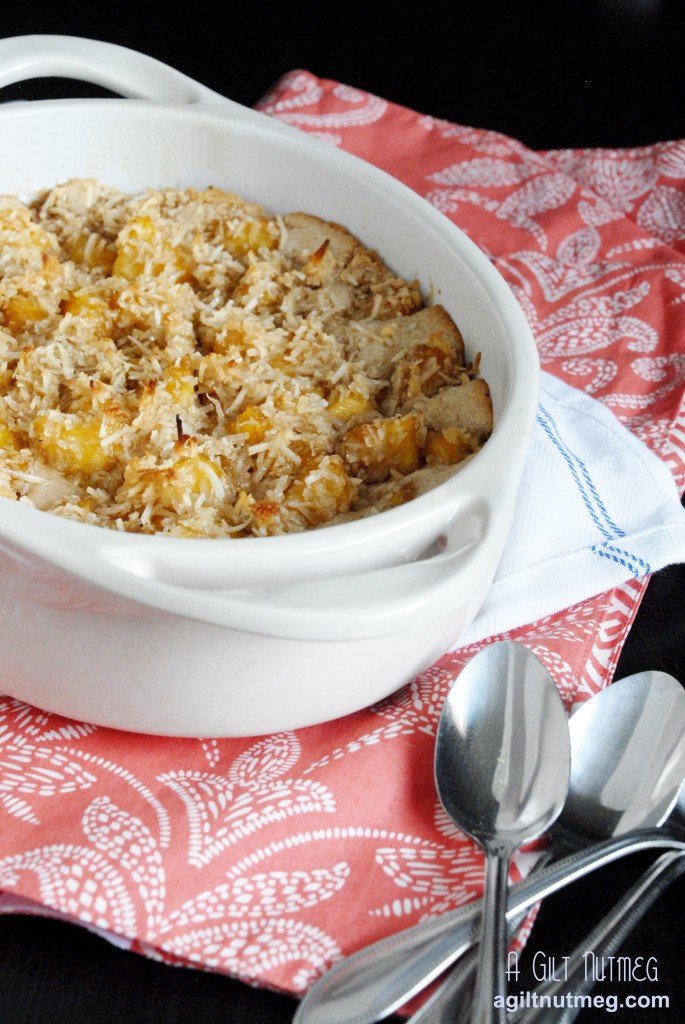 When I think of cobbler, I always think of berries, or maybe peaches.  Pineapple had never EVER crossed my mind to put in cobbler and, I confess, now that I've made it, I can't stop thinking about it.  The same thing happened when I moved to California, where fresh pineapple is much more abundant-I never went back to canned pineapple again.  This cobbler is a delicious tropical version of a very traditional dessert and one you should give a try as soon as you can!
When I found this recipe, it was good the first time, but I felt like it could use some spicing up, so I tweaked it to include flavors that would compliment the tropical fruit featured-ginger, vanilla, rum.  I think it's perfection, as long as you have a scoop of vanilla ice cream to compliment it on your plate.
Pineapple Coconut Cobbler
Adapted from Patrick Callarec, executive chef, Aulani
1 medium pineapple, peeled, cored and diced
1/3 cup brown sugar
1 cup shredded coconut (if you want a less sweet cobbler, track down some unsweetened coconut)
1/2 cup all-purpose flour
1/2 cup sugar
1/2 cup milk
1/4 cup butter, melted
1/4 teaspoon baking powder
Pinch of salt
1/4 teaspoon cinnamon
1/8 teaspoon ginger
3/4 teaspoon vanilla
1 Tablespoon rum
Heat oven to 350 degrees.  Spray a baking dish with baking spray-you can use an 8 x 6″ square pan as the original recipe suggested, but I used a 2 quart oval baking dish.
In a large saute pan, stir the pineapple and brown sugar together until melted and bubbling.  Let the mixture simmer and bubble for 10 minutes, stirring occasionally stirring.
After sauteing, pour the mixture into a small bowl and add the coconut.  Mix together until the coconut is evenly coated in the melted brown sugar-pineapple mixture (or until the pineapple is evenly coated in coconut, depending on which way you look at it) and set aside.
In a medium bowl, whisk together the remaining ingredients-flour, sugar, milk, butter, baking powder, spices and rum.
Pour the batter into the prepared baking dish and evenly distribute the pineapple-coconut mixture over the top of the batter.
Bake for 40-45 minutes until the edges are golden brown.
Serve warm with vanilla ice cream and enjoy!