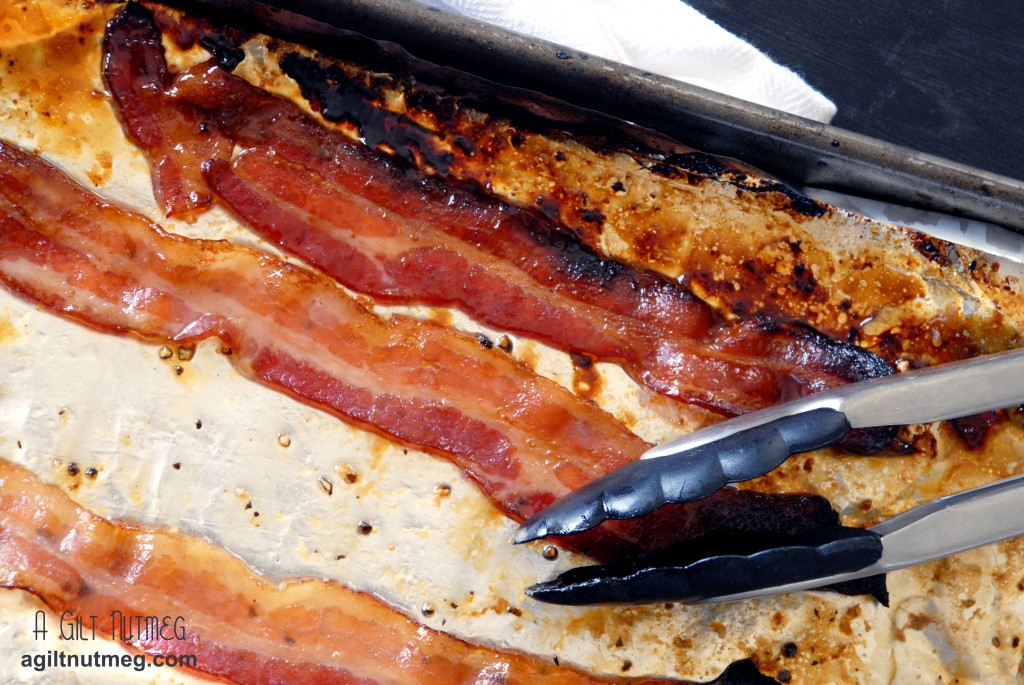 So when I said "I have bacon for you this Friday" I bet you didn't think I meant "1 1/2 weeks later on a Wednesday", did you?  Stuff got in the way, but here's the bacon!  It's outrageously good, so you should probably just quit whatever you're doing and head to your oven right now.  Seriously, look at the picture below: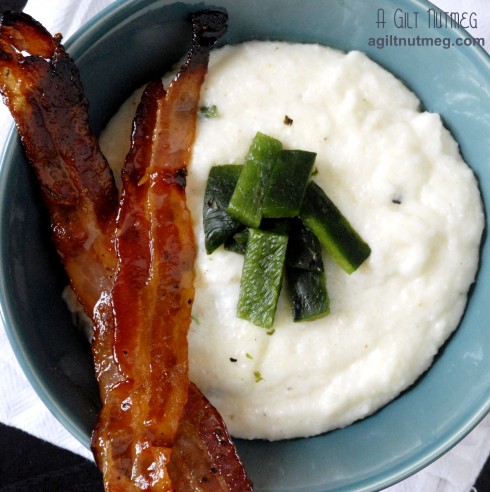 Could there be bacon any more glossy and translucent?  Look at that glaze!  It's practically shellacked on.  Best of all, this bacon is baked in the oven so you don't have to think twice about it while you're still cooking eggs or something.  While not as covered in spices and herbs as other glazed bacon I've come across here in LA's trendy restaurants, this bacon has a sweet/savory finish that is still going to leave you fighting over that last piece.  And, of course, if you want to experiment with all those herbs and spices, go for it!  I bet thyme or some Cajun seasoning would be great!
Maple-Cider Glazed Bacon
Makes 1 package of bacon
Was initially my own creation, but then I found The Spontaneous Hausfrau
already thought of it, so I have to give her credit for helping with ratios
1 cup apple cider
2 Tablespoons maple syrup (try to find the real thing here, not the corn syrup version)
1 package of your favorite bacon
salt & pepper
Heat the oven to 450 degrees.
In a small saucepan, boil the apple cider and maple syrup until reduced to about half.  Let it cool slightly as you're laying out the bacon.
Cover a rimmed baking sheet in tin foil and arrange your bacon in rows on the sheet.  You don't want them overlapping, but if you want to fit a whole package, you'll likely have to pack those babies in pretty tightly next to each other.  Personally, I know the bacon is going to be sizzling in its own grease in the oven and I love that thought, but if that's not your thing, you can arrange the bacon on wire cooling racks on your baking sheet so that the grease drips off as it bakes.  Just know that some of your glaze will drip off too!
Using a basting brush, generously brush about half the glaze over the top of the bacon, then grind salt and pepper over the top of the bacon.
Bake for about 10 minutes until the bacon is sizzling and darkening in color.  Flip the bacon slices and baste with the remaining cider.
Continue baking for another 5-10 minutes until the slices are darkened and crispy on the edges.
Let the baking sheet cool for about 10 minutes on a wire cooling rack.  If you want to mop up some of the grease in the pan with paper towels, go for it.
Once the bacon is a little cool and the glaze has had a chance to cool and stick to the bacon, line a plate with a stack of paper towels and move the bacon slices out of the baking pan and onto the paper towels.  Gently blot the slices (if you press too hard the paper towel may stick to the glaze) and then move to a warm plate for serving.  Enjoy!