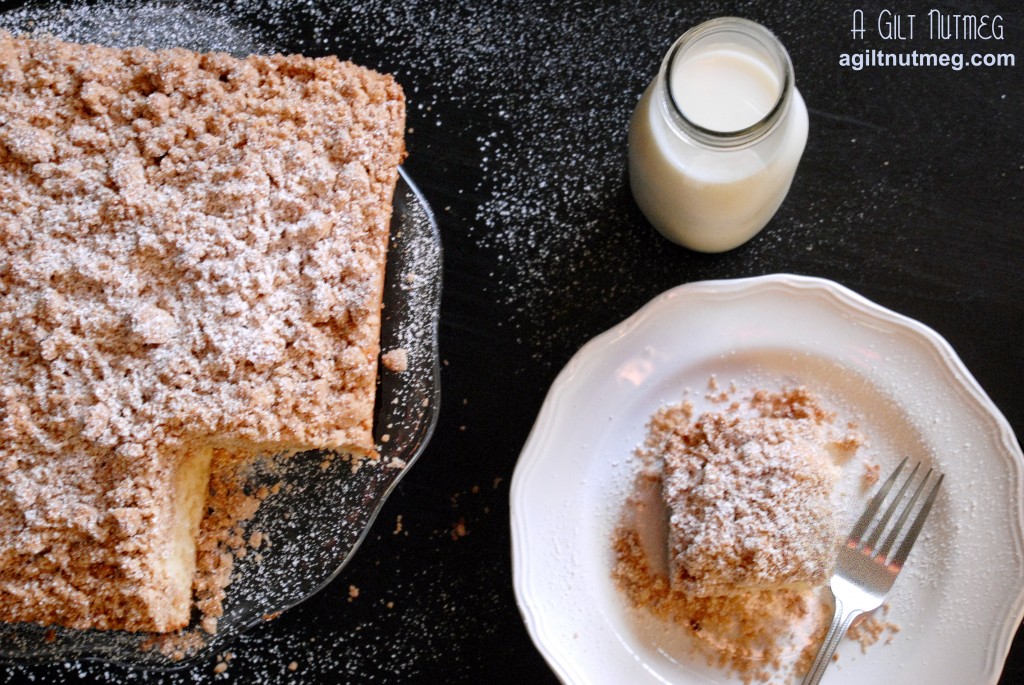 This recipe is not lying when it uses the term "cake".  Cooks Illustrated modified their yellow cake recipe into New York Style Coffee Cake; it literally is cake for breakfast, so tread carefully.  That said, this cake is delicate and light as a feather and I was quite impressed with its soft texture.  I was short on a few ingredients so I had to make some changes (adding lemon juice to milk to sub in for buttermilk), while at the same time I was rushing around the kitchen, trying to get back into the groove of baking and therefore did not read the instructions carefully enough.  I mixed the crumb topping ingredients in the wrong order, resulting in a very different texture than what Cooks was calling for.  I also didn't have enough cake flour, so I made sure to use the cake flour I had left for the cake itself (since the light-fluffy texture the cake flour would contribute to was so important there) and sub in some all-purpose flour for the topping.  Between the mixing incorrectly and the AP flour, I think the topping didn't turn out for the best (it was super super crunchy), but any shortcomings here were my own fault, not the recipe, and I'm looking forward to trying it again.  I've included the recipe as it reads from Cooks below, so you don't have to make the same mistakes I did.  (Or, if you do want that crunchy topping, use AP flour—for the topping only—and mix all the dry topping ingredients together before adding the butter instead of waiting to add the flour last after the butter.)
New York Style Crumb Cake
Cooks Illustrated, May 2007
Crumb Topping
1/3 cup sugar
1/3 cup dark brown sugar
¾ teaspoon ground cinnamon
1/8 teaspoon table salt
8 tablespoons unsalted butter (1 stick), melted and still warm
1 ¾ cups cake flour
Cake
1 ¼ cups cake flour
½ cup sugar
¼ teaspoon baking soda
¼ teaspoon table salt
6 tablespoons unsalted butter (3/4 stick), cut into 6 pieces, softened but still cool
1 large egg
1 large egg yolk
1 teaspoon vanilla extract
1/3 cup buttermilk
Confectioners' sugar for dusting
Pull out a piece of aluminum foil about 16" long and fold it in half, lengthwise, so you have a long skinny strip.  Place it in the bottom of an 8×8" baking pan; this will act as a sling to help you pull the cake out after baking.  Spray the pan and foil with non-stick baking spray and set aside.
In a medium bowl, mix the sugar, brown sugar, cinnamon and salt until combined.
Using a wooden spoon or spatula, stir the butter in until combined, then stir the flour in, forming a dough.  Set aside.
In a large bowl or a standing mixer bowl, mix together on low speed the flour, sugar, baking soda and salt.
Still on low speed, drop in the pieces of butter, one at a time, until there are no large pieces of butter left and the mixture looks like crumbles, 2 minutes or so.  I stepped away for just a moment when this was going on and I came back not a few seconds later and it had already passed the crumble stage and amassed into one large piece of dough, so it will happen quickly.
Add the egg, egg yolk, vanilla and buttermilk to the butter-sugar mixture and beat on medium high speed for at least one minute until the batter turns light yellow and uniform.
Pour the batter into the prepared pan and smooth out the top with a spatula.
Using your fingers, break up the crumble topping into pea sized pieces and sprinkle over the top of the cake.  I remember from Home Ec class back in 6th grade, that when making crumb cake you should always start your crumbles in the corners and then work towards the middle (and Cooks backs this up, too).
Bake for 35-45 minutes until a tester comes out clean and the topping is golden brown.
Let cool on a wire rack for half an hour before digging in with a glass of milk or a cup of coffee.  Enjoy!