Mission: a birthday cake for a little girl.  Obstacle:  it must be bright pink.  Naturally, my mind immediately turned to the rows and rows of boxes full of ripe strawberries at the market.  What could be more perfect for a little girl's spring princess birthday party than a strawberry cake?  Sweetapolita had just the recipe I was looking for, which included some strawberry jell-o to the batter to up the color from a gentle soft pink hue to bright hot pink.  Although I don't have pictures of the inside, you'll have to take my word for it-this was a seriously pink cake!  The jell-o also gave an otherwise light and fluffy cake a bit of a firmer, dense texture, but in a good, rich-tasting way, not in a "I accidentally used too much flour" way.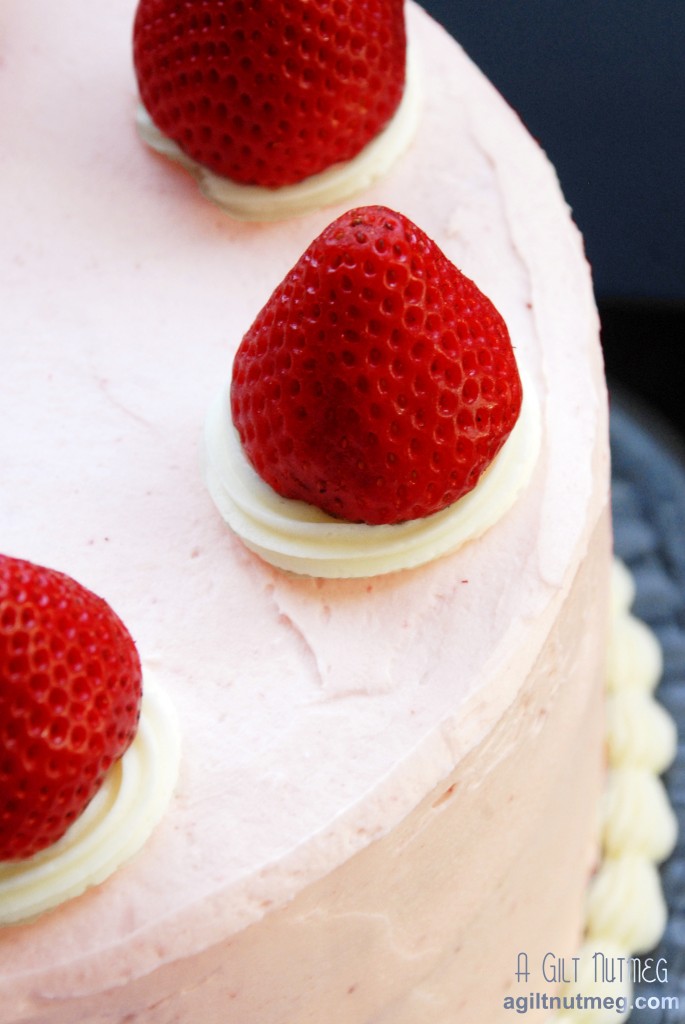 Then I strained some strawberry puree for the buttercream frosting and covered that pink cake in more pink.  To top it off, I picked the brightest, most perfect strawberries from the bunch to place on top of the cake.  If you squint, it's almost like a crown or a castle, perfect for the pink princess theme!  As if you need any more encouraging, just as Sweetapolita promises, this cake tastes exactly like strawberry ice cream…so why are you still reading?  Go bake!
Notes: This recipe makes three layers, 8″ across, so you'll need 3 specific 8″ pans for this cake.  Many bloggers have discussed how a three layer 8″ cakes have the most pleasing ratio of width to height, and I must say that I'm on board with them.  Also, going forward, I would make 1 1/2 recipes of the frosting, as it was a bit thin on the sides-you can just barely make out the layers through the frosting in the photo above.  That said, it would be strictly for aesthetic purposes; I don't love tons of frosting, and many people said it was just the right ratio of cake-to-frosting so you can go based on your own preferences.
Strawberry Cake
Adapted from Sweetapolita
1 lb box of strawberries
1 cup milk
1 Tablespoon vanilla extract
3 cups cake flour
1 Tablespoon baking powder
3/4 teaspoon salt
1 3/4 cups sugar
1 box (3 oz) strawberry jell-o
1 cup butter, room temperature
4 eggs
Frosting
3 sticks + 2 Tablespoons unsalted butter, softened
4 cups powdered sugar, sifted
1 Tablespoon milk
1 1/2 teaspoons vanilla extract
pinch of salt
3 Tablespoons of strained strawberry puree (you don't want seeds in your frosting!)
Heat oven to 350 degrees; line your three cake pans (8″ width) with parchment paper rounds and spray with nonstick baking spray (and pull out your butter to soften, if you haven't already)
Pick out the 6 prettiest strawberries and set aside for the top of the cake; hull and puree a handful of the remaining strawberries to get 1/4 cup of puree plus 3-5 tablespoons of puree for the frosting later (I love my hand held stick blender and the "smoothie cup" it comes with for this purpose).
In a small mixing bowl, whisk together the milk, vanilla, and 1/4 cup strawberry puree; set aside.
In a medium mixing bowl, sift together the flour, baking powder, and salt; set aside.
In a large bowl, beat the butter, sugar and jell-o with an electric mixer on high speed for 5 minutes.
Add the eggs to the butter-sugar mixture, one at a time, letting each egg fully incorporate before adding the next (and scrape down the sides of the bowl as necessary).
Add approx 1/3 of the dry ingredients to the eggs/butter/sugar batter, 1/2 of the liquid ingredients, the second 1/3 of the dry ingredients, the last of the liquid ingredients and then the last of the dry ingredients.  Stop mixing as soon as that last streak of white flour disappears.
Divide the batter equally among the three prepared cake pans and bake for about 30 minutes.  A toothpick or cake tester should come out clean when poked into the cake.  The cake won't brown too much on top at all.
Let the cakes cool on wire cooling racks for 10 minutes before taking them out of the pans and letting them sit on the racks until fully cooled.
To make the frosting, whip the butter in an electric mixer for 8 minutes on medium speed; the butter should be super super soft and fluffy.
Add the powdered sugar, milk, vanilla, and salt, and beat until fully incorporated and the frosting is creamy.
If you plan on doing some white frosting decorations on your cake, take out about 3/4 cup of frosting and set it aside now.
Add the strawberry puree and beat until frosting is smooth and creamy.
To assemble the cake, spread a 1/2″ layer of frosting on the first cake layer, top with the second cake layer and spread another 1/2″ layer of frosting.  Add the last cake layer on top.
Spread a very thin layer of frosting over the top and sides of the cake, then refrigerate for 30 minutes.  (I know this "crumb layer" step seems like a waste of time, but I promise, this is the first time I gave it a try and I fully understand now why it is necessary.)
Spread the rest of the frosting over the cake in an even layer, refrigerate for 30 minutes and then decorate with your white frosting.  I did a piped border around the bottom of the cake, then piped little circles at intervals around the top edge of the cake and nestled the hulled strawberries on each of the rings.  Enjoy!