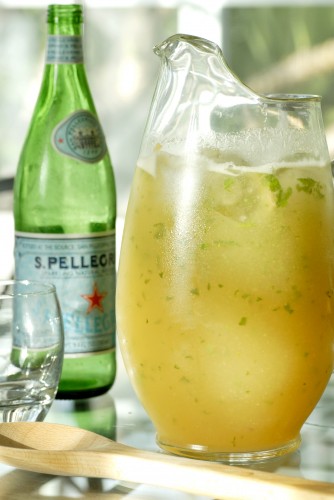 I know, I know; I just can't seem to let summer go.  While I absolutely cannot wait to pull out my Fall arsenal of recipes (you will wonder how much more butternut squash you can possibly stand from me), I'm still sad to see all the fresh fruits and veggies go under a winter frost.  Luckily, my CSA veggie shipment still has some treats tucked in it, like one more beautiful cantaloupe for the season.  Wanting something special for a last hurrah to summer's melons, I decided to try my hand at aguas frescas.  I'm pretty impressed with what came out of these ingredients and this is such a refreshing drink that I'm pretty bummed that I've gone the whole summer without it.  It'll be great for those warm Indian Summer afternoons and evenings that may still pop up-and if you want to make it for a party, I'm sure adding vodka would make it fantastic.
Mint Cantaloupe Aguas Frescas
1/2 cantaloupe, diced

handful of fresh mint leaves (package from my store was .66 oz)

1 bottle (750 mL) sparkling water, such as San Pellegrino

4 cups lemonade (click here for my favorite recipe)

ice
Puree the cantaloupe and add to pitcher.

Muddle the mint leaves in the bottom of the pitcher by crushing the leaves with a wooden spoon.  When it smells minty, you're done.

Pour sparkling water and lemonade into the pitcher and stir.

Add ice cubes and serve with mint sprigs for decoration!