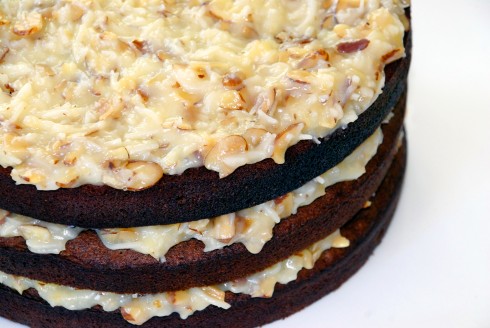 I've always been hesitant to make a German Chocolate Cake because they're not really my favorite flavor combo for cake and, quite frankly, I don't think they look very pretty.  This being an assignment for Project Pastry Queen, I plowed ahead, hoping against hope that I would be able to create a cake worthy of posting…and well…here I am, so it all worked out for the best!
Let me start out by saying something Big and Important: this is my new go-to chocolate cake recipe.  I can take or leave the coconut custard icing that makes it an official German Chocolate Cake because it's just not my favorite type of icing for a cake.  This is no Devil's Food Cake, but it's the perfect every day chocolate cake-soft, moist, and full of strong chocolate flavor.  I can't wait for the next time I need chocolate cupcakes or a cake for a party, because I know I won't have to scour over recipes and hope that the recipe I choose turns out okay.  If you do like coconut, this is a slightly different filling recipe as it utilizes cream of coconut for an extra punch of flavor and almonds instead of pecans.  I did like it in the end and, while not my favorite, it's certainly a great recipe to have in your box if you love German Chocolate Cake!

In an interesting tidbit for the morning, Rebecca shared that German Chocolate Cake isn't actually from the country of Germany, but from Texas and named for the brand name "German" chocolate.  Who knew!
Notes: Again, I left out the chocolate chips.  1 3/4 cups stirred in at the end if you want them.  Rebecca also uses almonds in place of the typical pecans, but I'm sure you can substitute pecans back in if you would prefer.  You'll need three 9″ cake pans, which was a surprise since I only had 2 pans.  Also, make sure you have plenty of eggs on hand-you'll need a total of 9!

Almond Bliss German Chocolate Cake
Recipe from The Pastry Queen

Cake
8 oz bittersweet chocolate, chopped into small pieces

1/2 cup boiling water

1 cup (2 sticks) unsalted butter, at room temperature

2 cups sugar

4 large eggs, separated

1 teaspoon baking soda

1 cup buttermilk

2 1/2 cups all purpose flour

1/2 teaspoon salt

1 tablespoon vanilla extract
Custard Icing
1 1/2 cups sliced almonds

1 cup milk

1 1/2 cups sweetened cream of coconut (I found a bottle in the alcohol section next to the rum, since it's used in pina coladas)

1/2 stick unsalted butter

5 large egg yolks

3/4 cups sugar

3 tablespoons cornstarch

1 1/2 cups sweetened shredded coconut
Place one baking rack 1/3 from the bottom of the oven and the second 2/3 from the bottom.  Preheat the oven to 350 degrees.  Line the bottom of three 9: cake pans with parchment paper rounds, grease with butter and dust with flour.

Place the chopped chocolate into a small bowl and pour the boiling water over the chocolate.  Stir until it is melted completely into a smooth sauce.

In a large bowl, beat butter and sugar on medium for 2 minutes.  Add the egg yolks and beat for another minute.

In a bowl, add the buttermilk and baking soda, stirring until it dissolves.  The buttermilk will gently foam up and double in volume, so be sure your bowl is big enough.

Add half the buttermilk mixture to the butter-sugar-egg yolk mixture, beat on low until incorporated, then add half of the flour, beat, then the rest of the buttermilk and the rest of the flour, beating after each addition.

Using a spatula, stir in the salt, vanilla, and melted chocolate.  (Stir in chocolate chips, if using.)

In a clean medium bowl, beat the egg whites on high speed, until soft peaks form.  Gently fold the egg whites into the chocolate batter.

Spoon the batter evenly into the prepared cake pans.

Staggering the cake pans in the oven, put two on the top rack with lots of space in between, and the third on the bottom rack in the middle.  Bake for 30-35 minutes until an inserted toothpick comes out clean.  Keep an eye on them, as they could rise strangely (mine were most definitely lopsided) or the pans could finish baking at different times.

After coming out of the oven, transfer pan to wire racks and after 5 minutes, take the cakes out of the pans and put them upside down directly on the wire racks (that should help them to even out if they rose unevenly).

While the oven is still hot, spread the almonds evenly onto a rimmed baking sheet and toast the almonds for 5 to 7 minutes until golden brown.

Heat the milk, cream of coconut and butter in a saucepan over medium heat utnil the butter has completely melted.

In a medium bowl, whisk the egg yolks, sugar and cornstarch until smooth.  Pour 1 tablespoon of the hot milk mixture into the whisked egg yolk mixture and whisk until fully incorporated.  Repeat two more times (we're warming the egg yolks up, "tempering them", so that when we add them to the milk they don't immediately curdle up into scrambled eggs).

Slowly pour the tempered yolk mixture into the hot milk mixture, which still is over medium heat, whisking constantly.  Whisk constantly for 7-10 minutes until the mixture thickens and looks spreadable.  This happened at exactly the 7 minute mark for me, but I kept going for a few more minutes just in case.  I would rather have slightly over done frosting than frosting that just dribbled down the sides of the cake!

Stir the shredded coconut and the toasted almonds into the custard mixture.  Let the icing cool for at least 15 minutes.

If your cake layers aren't exactly even, as mine weren't, you can take a serrated knife and cut the tops off so that they lay flat when stacked.  Bonus:  the tops you cut off are all yours to eat!

Put one layer of cake on the plate, spread icing on top, and repeat with the other layers-I put the top layer on upside down so that the perfectly flat side was facing up.  It was a prettier surface for laying down icing on.  Do not frost the sides of the cake, and you'll have a surprisingly beautiful specimen of a German Chocolate Cake!  I think leaving the sides clean goes a long way towards avoiding the sticky gloppy mess you usually see of German Chocolate Cakes.


Rebecca suggests you wrap the cake well if you don't plan to eat it within 3 hours.  I say, see how long it lasts!