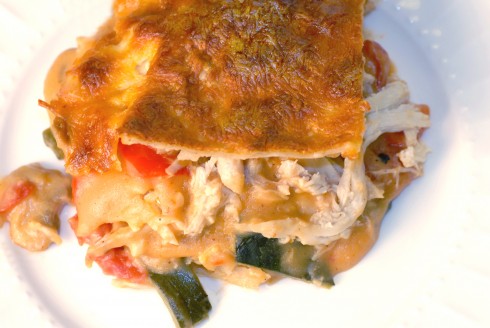 Out of all of the recipes I've made for Project Pastry Queen, this is by far the most "Texan".  Full of southwestern flavors, this is an extremely hearty casserole!  I admit I don't love corn tortillas, so already this recipe was at a disadvantage in terms of going into my permanent recipe box, but the flavors all even out quite nicely and, while not my favorite PPQ recipe, it's certainly one to pull out when your Texas relatives come to visit.
In typical Emily-fashion, I had a few forehead slapping moments.  I try to do my food shopping economically but also locally & organic when I can which means that I ended up going to three different grocery stores (which was not my intention).  Most of my basic ingredients came from Trader Joe's, because they have the best prices, the local food co-op (appropriately called "The Co-op") for my veggies, but then I still had to go to Von's to get the poblano peppers because the co-op strangely enough had no chile peppers whatsoever.  So I'm happily cooking away and I'm to the part of the recipe where I start assembling the casserole when I realize with a jump-this is a chicken casserole…I didn't buy any chicken today!  I blame it on the way the recipe is worded and arranged, since I didn't make my own chicken stock, but in the end I can't believe I didn't put 2 and 2 together and remember to actually buy chicken.  All's well that ends well.  I'm just glad I live only 2 blocks from the supermarket.
The whole roasting poblano peppers routine may seem really tedious, but I promise, learn now because one of my favorite recipes ever (and I mean EVER) uses roasted poblano peppers and you'll be glad you have the technique down when I finally post it.
Also, I've been very slowly working towards liking mushrooms.  It's an uphill battle, for sure, but I think that smelling the mushrooms simmering in butter was a turning point for me.  They smelled truly delicious.
Interesting Fact: this recipe is named for one of the biggest ranches in Texas but….it's a ranch, which means beef, not chicken.  The ranch is just as confused you probably are about why the casserole got named after them.
Update: I have to say that while I wasn't the biggest fan of this recipe at first, I'm loving the leftovers!  I think the flavors just needed time to meld in the fridge overnight.  This Home Plate's version for PPQ looks delicious with sides of salad and black beans-I know what I'm adding to my plate tomorrow night with the last bit of casserole!
King Ranch Casserole
The Pastry Queen by Rebecca Rather
10-12 servings
1 roasted chicken, meat shredded

3 poblano chiles, roasted and diced (Rebecca suggests New Mexican green chiles, but they're pretty difficult to find)

1/2 cup (1 stick) unsalted butter

1 medium yellow onion, chopped

8 oz button mushrooms, sliced

4 cloves garlic, minced

1/2 teaspoon chili powder

1/4 teaspoon cayenne

1 teaspoon salt

1 teaspoon freshly ground black pepper

1 cup all purpose flour

3 1/2 cups chicken stock

1/2 cup heavy cream

1 can (10 oz) diced tomatoes

18 corn tortillas

1 cup shredded Monterey Jack cheese

1 cup shredded sharp Cheddar cheese (or do what I did and buy a bag of pre-shredded Mexican mix cheese which includes both Monterey Jack and Cheddar and is half the price of buying two blocks of the cheeses and shredding yourself)
Roasting the Peppers: Turn the oven to broil and while that's heating up, slice the poblano peppers in half, clean them of stems, seeds, and ribbing, then lay the pieces on a cookie sheet, skin side up.  They should lay as flat as possible-just squish them.  Slide the cookie sheet under the broiler element as close as it can go.  In my oven, there's a little drawer in the bottom so I can slide them right up underneath the flame.  You want the skin to turn black and bubbly, which in this case doesn't mean it's burned, but instead means less work for you.  You really do want every inch of that skin bubbly because if it's not, it just means you'll have to put the peppers back in the oven (so leave it on after you take the peppers out, just in case).  Leave the peppers under the broiler for about 5 minutes.  When you pull them out, put them in a paper bag so they can sweat for 5 minutes.  Pull them out (they'll be cool) and peel the skin off the peppers.  If you leave the skin on, it's kind of like finding pieces of plastic wrap in your food.  The skin will come off pretty easily.  If there is still skin that won't come off, just slice that part of the pepper off and put it back under the broiler for another 5 minutes.
Making the Filling: Melt the butter in a large saute pan over medium heat.  Add the onion, bell pepper, mushrooms and garlic.  Saute on medium-low heat about 7 minutes, stirring occasionally.  Stir in the chili powder, cayenne, salt and pepper and cook for 1 minute.  Sprinkle the flour in the pan, 1/2 cup at a time, and stir until the white of the flour is no longer visible (I doubted it but it happens, I promise).  Whisk in 3 cups of chicken stock, 1 cup at a time, whisking until smooth after each addition.  Whisk in the cream and stir in the diced roasted chiles.  Add the tomatoes (juice and all).  The cream sauce will be nice and thick.
Assembling the Casserole: Place 1/2 cup of chicken stock in a wide bowl so that you can lay 6 tortillas in the bowl flat and covered with the chicken stock.  Wait a few minutes while you get everything else ready.  Preheat the oven to 350 degrees and grease a 9×13″ baking dish with butter.  Line the bottom of the baking dish with tortillas.  Rebecca suggests 6 per layer, saying that a thick layer of tortillas means it will be easier to cook, but I used fewer since I don't like corn tortillas.  (Put the next 6 tortillas in the bowl of chicken stock.)  Cover the tortillas with half of the cream sauce.  Add half the chicken and sprinkle with 1/3 of the cheese.  Add a second layer of soaked tortillas (and put the last tortillas in the bowl to soak), the remaining cream sauce and chicken and another layer of cheese.  Top with the last layer of tortillas and sprinkle the rest of the cheese on top.

Bake the casserole for 45 minutes until hot, bubbling, and lightly browned on top.  Remove the casserole from the oven and let sit about 10 minutes before cutting into squares and serve.