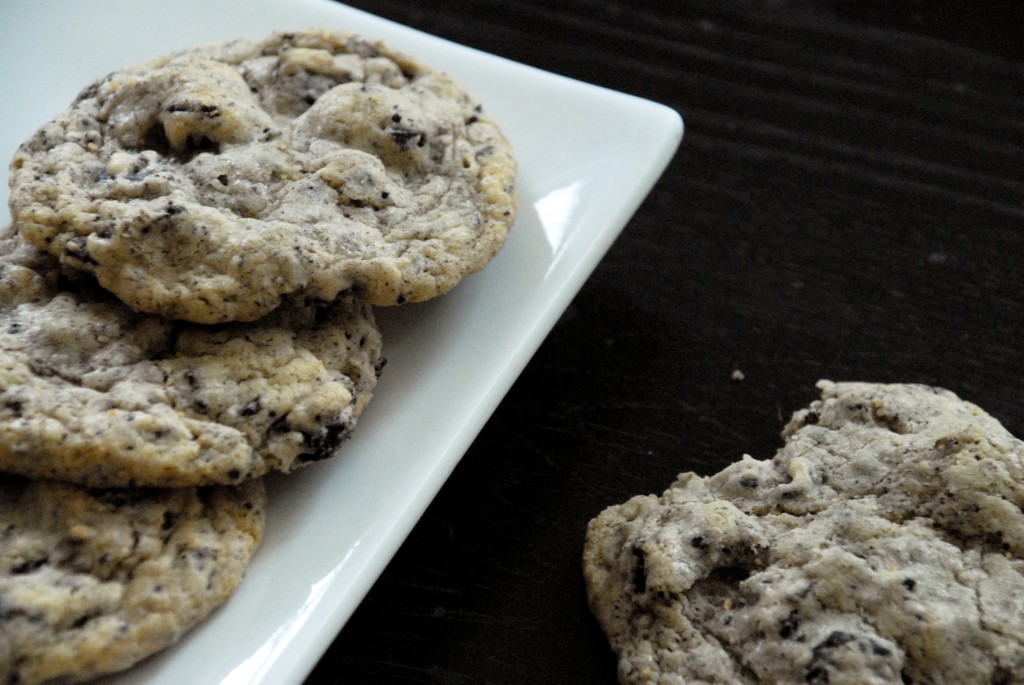 Whew, what a trip The Great Food Blogger Holiday Cookie Swap 2011 has been!  Organized by Love and Olive Oil and The Little Kitchen, cookies were flying all over the country as they were shipped from one food blogger to another- 22,000 cookies were in transit worldwide last week!
I spent quite a while trying to decide what cookies I wanted to send-something that would be sturdy enough for travel, that would stay fresh, and was fun to make and receive.  I was in one of those situations where you have a lot of recipes that sound okay, but nothing really strikes you until that one special recipe comes seemingly out of no where and there's no question that that's your recipe.
I've always liked cookies & cream ice cream and when I saw this recipe my first thought was "that sounds AWESOME" and then my second thought was "that sounds awfully redundant, to put cookies in cookies" but my first thought quickly came back and my cookie swap cookie was decided: Cookies & Cream Cookies it is!  I hope that Brooke of Baking with Basil (North Carolina), Jessica of My Cooking Adventures (North Dakota), and Sofie of The German Foodie (Ohio) have enjoyed these fun cookies-it tastes just like eating cookies & cream ice cream!  They'll be perfect for a Christmas party (for kids and adults alike) or to put out for Santa with a glass of milk!
Cookies and Cream Cookies
I used about a 2″ ice cream scoop for these cookies;
a double batch yielded about 40 cookies
1/2 cup butter, at room temperature

6 tbsp sugar

6 tbsp brown sugar

1 egg

1 tsp vanilla

1 1/4 cup flour

1/2 tsp baking soda

1/2 tsp salt

12 Oreos, broken up into small pieces (I put mine in a large ziploc bag with the air squeezed out and beat them with a rolling pin on the floor-I'm sure my neighbors in the apartment below me weren't too pleased with this)
Preheat oven to 350 degrees.

Cream together the butter and both sugar about 3 minutes, until fluffy.

Add egg and vanilla to butter and sugar, beat until combined.

In a separate bowl, whisk together the flour, baking soda and salt.

With your mixer on low, add the dry ingredients to the wet ingredients in 4 parts, beating just until combined.

With a spatula, gently fold in the Oreo pieces until fully incorporated in the batter.

Using about a 2″ wide ice cream/cookie dough scoop, scoop the batter on to an ungreased cookie sheet, leaving 2″ between scoops on the sheet.

Bake until just barely beginning to brown on the edges-if you bake them for too long, they lose that "cookies & cream ice cream" look because they won't just be black and white, they'll be black, white, and brown.

Let the cookies cool on the baking sheet for 10 minutes.  If you don't, they will stick the the sheet and bunch up in front of your spatula as you try to work it underneath the cookies.  Then transfer the cookies to a wire cooling rack to finish cooling all the way.
As I said before, these are great to bake ahead of time and leave out for Santa with some milk.  I actually baked mine last Sunday (over a week ago), shipped the cookies off on Monday and threw 4 of them into a tupperware container to take photos of for the blog.  I got busy and had to go out of town so I thought well, they'll be stale when I get back but at least they'll still look good for the photos.  Can you believe that over a week later these cookies still were perfectly crunchy-soft just like they were fresh off the cooling rack?  What a great recipe!
I have to send out a big thank you to the bloggers who sent ME delicious cookies!  I got delicious Pumpkin Chocolate Chip cookies from Nicki at Nick-Stirs and some fantastic Cranberry Orange Pecan cookies from Kimberly at Rhubarb and Honey, both of which disappeared quickly between me, The Boyfriend, and my roommate.  And somewhere, out there in California, Stephanie's Gingersnaps with Chai Icing and Crystalized Ginger (from Life Tastes Like Food) are floating around lost in mail-limbo.  They haven't hit my mailbox yet, but considering chai is one of my favorite flavors of all time, I'm pretty sure that these won't even make it upstairs and that the next day, our post-lady is going to wonder why there are crumbs underneath the mailboxes.

A shout-out to Ace of The Toasted Sprinkle, who turned into one giant stress-ball over the Cookie Swap and bombarded me with panicked text messages for weeks, but turned out absolutely delicious sounding cookies in the end (See?  It all worked out!  You need some relaxing lavender bath salts for Christmas…)
And finally, a huge thank you to Lindsay of Love and Olive Oil and Julie of The Little Kitchen for all the hard work they put into organizing the whole swap-it was such a fun way to start off the holiday baking!  If you're interested in participating in next year's cookie swap, click this link here.