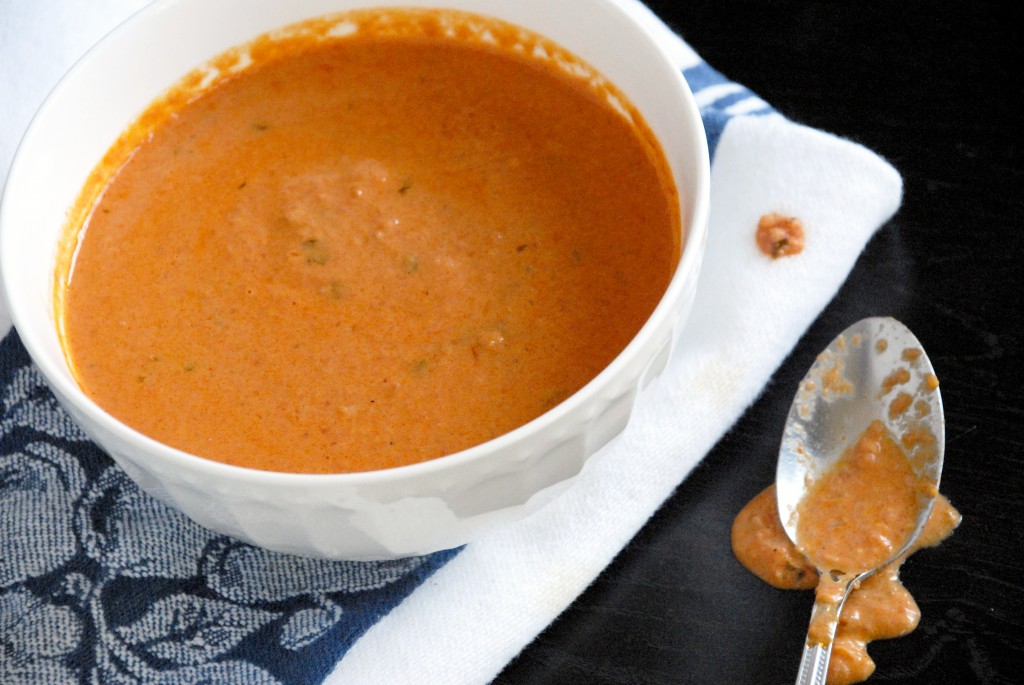 Well, the holidays are over and the leftovers are dwindling.  It's cold outside and you don't want something too heavy after finally eating the last of all the pie and cookies that were in your house.  Naturally, what do I turn to, but soup!  Now I admittedly love (LOVE) Campbell's Tomato Soup with a grilled cheese sandwich, but I had the inspiration recently to make it from scratch and I have to wonder if I'm actually going to go back to Campbell's now.
Making Cream of Tomato Soup from scratch means a whole new depth of flavors, instead of just the flat flavor you get from soup from a can, and the effort really isn't that much more involved.  Plus, you lose all the salt and preservatives that you always find in prepackaged foods.
Cream of Tomato Soup
Adapted from Cooks Illustrated
Makes about 5 1/2 cups
2 cans (28 oz) whole tomatoes (not packed in puree), drained, 3 cups juice reserved, tomatoes seeded
1 1/2 tablespoons dark brown sugar
4 tablespoons unsalted butter
4 large shallots, minced
1 tablespoon tomato paste
Pinch ground allspice
2 tablespoons unbleached all-purpose flour
1 3/4 cups chicken stock or canned low-sodium chicken broth
handful of fresh basil leaves
1/2 cup heavy cream
2 tablespoons brandy or dry sherry
Table salt
Cayenne pepper
Heat oven to 450 degrees and line a rimmed baking sheet with foil.
Spread the tomatoes out on the sheet and sprinkle the brown sugar over the tomatoes.  Bake for about 30 minutes until the tomatoes begin to brown a little, in the meantime…
Melt butter in a nonreactive large saucepan.  Add shallots, tomato paste, and allspice.  Reduce the heat to low and let the shallots cook until soft (about 10 minutes).  Sprinkle flour over the shallots and stir until thoroughly combined, cooking for about 30 seconds.
Whisking constantly, gradually add chicken stock; stir in reserved tomato juice, roasted tomatoes and basil leaves.
Cover the pot with a lid and bring the contents to a boil.  Reduce the heat to low and simmer, stirring occasionally, for about 10 minutes.
Using a stick blender, puree the contents until smooth.
Add cream and heat over low heat until hot, about 3 minutes. Off heat, stir in brandy or sherry; season to taste with salt and cayenne.
(Cooks' Illustrated adds that "this soup can be prepared through step 3, cooled, covered, and refrigerated for up to 3 days or frozen for up to 2 months. Reheat over low heat before proceeding with step 3″.)