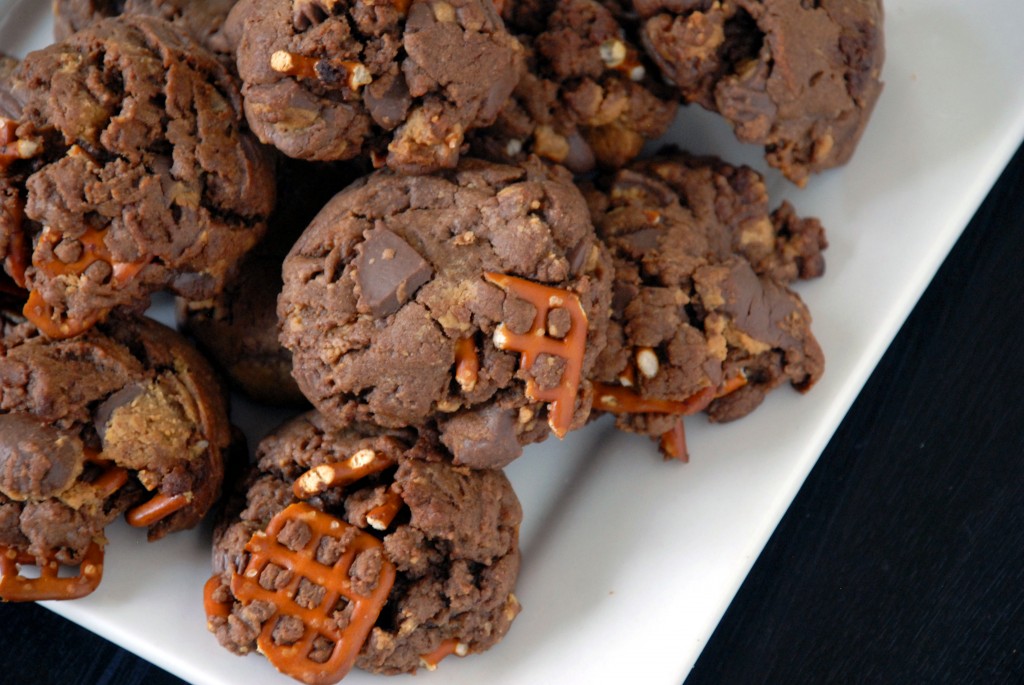 I make sure to keep a light heart on this blog and, since the topic is food, it's not hard to do.  But I want to say that 2011 was a tough year for many people close to me and the hardest year of all was likely for my dear friend Erin and her family.  Her father was simultaneously diagnosed with stomach cancer and prostate cancer and the strength this tight-knit family has shown in spite of it all is awe-inspiring.
The hardest part about stomach cancer is that eating is of much less interest than it was before.  I can't imagine such an important part of my life as food or eating suddenly being unpleasant and difficult to accomplish and it's this very reason that stomach cancer is one of the most trying types of cancers to deal with.
In a bid to spread some holiday cheer and good will to a family that so much deserves it, I wanted to bake cookies but feared Erin's dad wouldn't be able to enjoy them.  I was assured that he does get cravings so I set about making cookies that would satisfy any craving that might pop up-sweet, salty, soft, crunchy.  The resulting cookies won't win any beauty contests, but boy do they sure hit the spot.  They have chocolate, peanut butter, Reese's peanut butter cups and buttery pretzels all rolled into one.
I hear tell the whole family enjoyed them, including Erin's dad-which is exactly what I had hoped for.
Peanut Butter Chocolate Pretzel Cookies
Adapted from Annie's Eats
1½ cups plus 2 tbsp. all-purpose flour
6 tbsp. Dutch-process cocoa
½ tsp. baking soda
½ tsp. coarse salt
¾ stick (6 tbsp.) unsalted butter, at room temperature
¼ cup plus 2 tbsp. creamy peanut butter
½ cup sugar
½ cup brown sugar
1 large egg
1 tsp. vanilla extract
2 tbsp. milk
1 bag of coarsely chopped mini peanut butter cups **see first step before chopping
1 cup of pretzels (I used "Butter Snaps"), broken
Start by throwing the bag of peanut butter cups into the freezer.  Annie, being the kitchen genius that she is, figured out that this makes unwrapping and chopping much much easier.  Heat the oven to 350 degrees and line cookie sheets with parchment paper.
In an extra bowl, mix the flour, cocoa powder, baking powder and salt.
In a separate bowl, use an electric mixer to beat the butter, sugar and peanut butter for 1-2 minutes.  Add in the egg, vanilla extract, and milk and beat until incorporated.
On low speed, add the mixed dry ingredients to the wet mixture until fully incorporated.
Add the pretzel pieces and fold in with a spatula.  If you're short on time, just dump in all the chopped peanut butter cups and fold them in as well with a spatula.  If you want to make the cookies a little prettier, divide the cups in half, fold the first half into the batter and save the other half to press into the tops of the cookies later before baking.
Drop large spoonfuls of the dough (Annie suggests about 3 tablespoons worth; I used my 2″ ice cream/cookie dough scoop) on to the prepared baking sheets.  My dough was a bit crumbly, no doubt due to the massive amount of "add-ins" to the dough.  Just press the dough mounds back together if they're falling apart.  If you saved any peanut butter cups, press those gently into the tops of each cookie now.
Bake for 12-14 minutes and take out, even if they look a little underdone.  Let cool on the baking sheet for 10 minutes and then transfer to a wire cooling rack.
Like I said, 2011 was a bit of a tough year, but here's hoping that 2012 brings health and happiness to Erin's family.