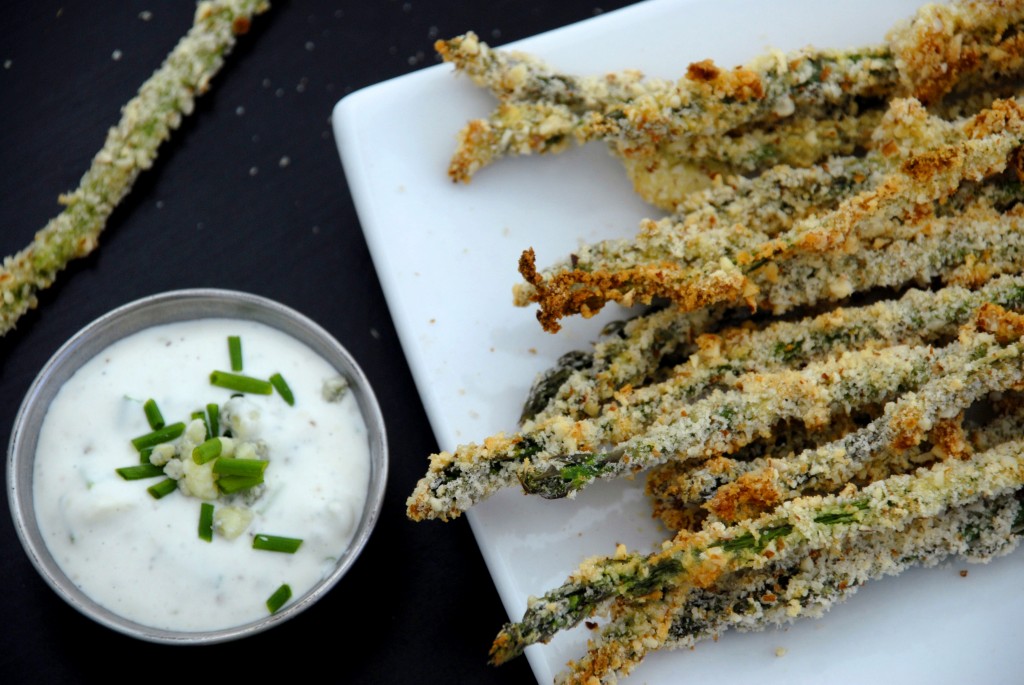 I'm a pretty picky eater.  And because of that, when I buy certain ingredients for recipes, I buy them in the smallest amount, knowing sadly that some of it will go to waste.  I try to encourage The Roommate and The Boyfriend to eat up, but to no avail.  So here I was with a partial container of sour cream, a partial carton of buttermilk, a partial package of chives, and a partial container of blue cheese crumbles in the fridge.  I also bought beautiful asparagus yesterday, spur of the moment, because whereas a pound is normally around $5, it was on sale for 99 cents!  (I had to explain to my East Coaster friends that it wasn't discounted because it was gross, but that So Cal is having a lovely warm mild winter so asparagus is growing early like crazy and they're trying to sell it as fast as they can.)
So here I am browsing Pinterest and I see a pin for crispy asparagus with dipping sauces.  Curious, I scan the recipe and I start thinking, "…buttermilk, I have that!…sour cream, I have that!…blue cheese, I have that!" and so all of that, paired with the fact that this beautiful asparagus needed to be eaten, I knew exactly what I was making when I got home.
and now I can say, this is a phenomenal recipe!  I have never had so much fun eating asparagus.  Roommate, Boyfriend, and I couldn't stop eating them and I honestly can't believe that ingredients I normally don't like (mayo, sour cream, etc…notice a white gloppy pattern?) all come together to make such a delicious sauce.  Bonus: the asparagus is baked so it's super healthy-and let's just leave it at that and not think about whether the dipping sauce is healthy or not, shall we?
Baked Crispy Asparagus with Blue Cheese Dipping Sauce
Adapted from SpoonForkBacon
Makes 1 lb of asparagus and almost 1 cup of dipping sauce
Asparagus
1 lb of thin asparagus spears, tough ends removed
1 cup almonds
2 cups panko bread crumbs
2/3 cup flour
4 eggs
cooking spray
Dipping Sauce
1/4 cup light mayonnaise
1/4 cup light sour cream
1/4 cup crumbled blue cheese
2 tablespoons milk
1 1/2 tablespoons chives, chopped
1 teaspoon fresh lemon juice
salt and pepper to taste
Heat oven to 375 degrees and cover a baking sheet with parchment paper.
In a food processor, process the almonds and panko bread crumbs until finely ground and combined (I used whole almonds because they were on sale, so I processed them up first for a few seconds before adding the panko crumbs.  If you buy pre-sliced almonds, just throw the panko and almonds all in at once).
In three separate dishes, put the flour in one dish, put half the almond-panko mixture into another and 2 of the eggs, beat with a fork, into the third.  I started with just half the almond-panko mixture and half of the eggs in the pans because the panko gets a little clumpy when the egg drips in it and then the egg gets a little clumpy when the panko falls in it.  Basically, you need a half-time to rinse the pans out and start fresh.
Roll the asparagus in the flour, dip it into the egg, then dip it into the almond-panko mixture and lay it in rows on the cookie sheet.
Once all the asparagus is rolled, dipped and dipped again, lightly spray the asparagus on the cookie sheet with cooking spray and then put it in the oven to bake for about 15 minutes until golden brown.
While the asparagus is baking, put all the ingredients for the dipping sauce into a small bowl and mix until thoroughly combined.
Serve the asparagus hot and dipping sauce cold and enjoy!