On Saturday I had the honor of making the food for the bridal shower of my dear friend's sister.  I learned a very important lesson this weekend: catering is EXHAUSTING.  I also learned that you should NOT leave something as finicky as Swiss Meringue Buttercream Frosting to the very last minute because you will be literally running on foot to the closest mini-mart for butter to start a backup American style Buttercream that will have you leaving 2 hours later for San Diego than planned.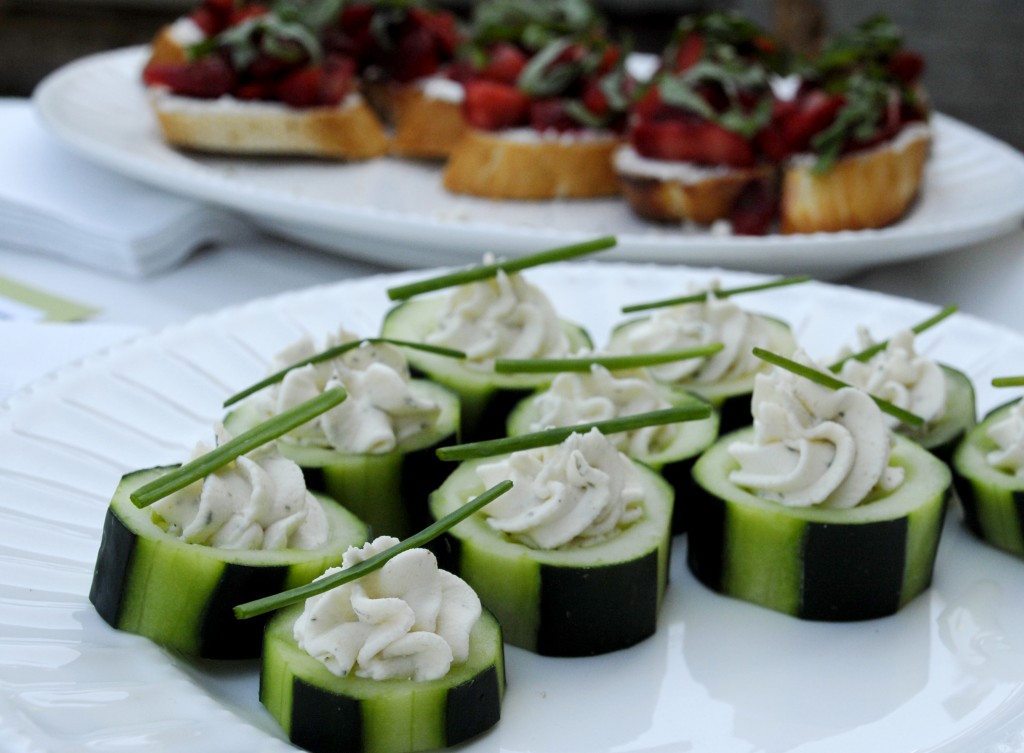 Since the party was for 2pm on a gorgeous spring day, I had planned out a menu that would be very light and all non-fork foods for the guests to snack on.  Would you believe that out of all of the different items, the hit of the party were the cucumbers?  Also, a green and red theme inadvertently emerged and yet the table somehow didn't look like Christmas, which is a miracle-instead all the green just reminded you that Spring was getting underway.  I'll be posting the recipes throughout the week; any one of them would be a great appetizer to a Spring dinner.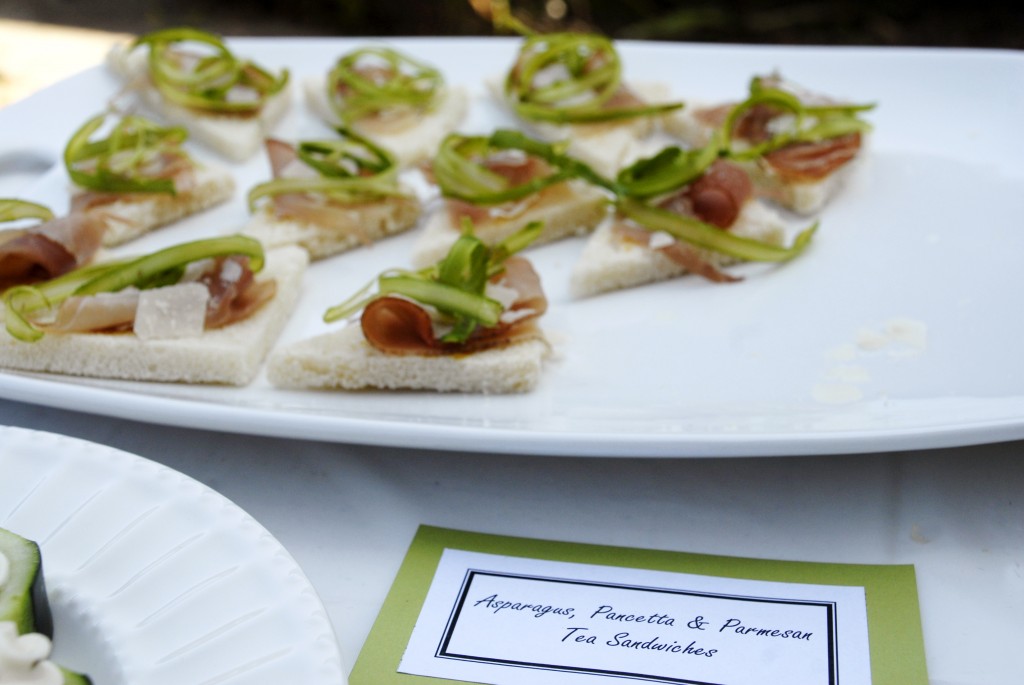 While tiring, the experience was very rewarding and I'm so proud and happy to have been able to do this for my friend's family.  I wish nothing but the best for Amanda and Christian!
Menu
Herbed Cucumber Bites
Strawberry Basil Bruschetta with Lemon Goat Cheese
Shaved Asparagus, Prosciutto & Parmesan Tea Sandwiches
Margarita Cupcakes (it was Cinco de Mayo, after all)
Watermelon Gin Fizz
Since I don't have a great photo of the drink, I'll post the recipe here and save the other recipes for their own posts.  It is going to be perfect for a hot summer's day with friends and I can't wait to drink it all season long.
Watermelon Gin Fizz
Adapted from Eating Well
1 medium sized watermelon (the melons a little bigger than a soccer ball)
2 bottles (2 liter size) of ginger ale
about 1/2 a  bottle of gin (you can, of course, adjust this to taste)
Juice of 3 limes
extra limes to cut for garnish, if you wish
Cut the watermelon into large chunks.  If you wish (and I highly suggest it) set aside about 1/3 of the melon and neatly cut those slices into 1″ cubes.  Put the cubes in a bag and put them in the freezer to act as edible ice cubes later.
Puree the remaining watermelon in a blender or food processor (although the processor isn't liquid proof so it may make a bit of a mess) and strain the watermelon puree in a sieve; discard the fibers and seeds left behind in the sieve.  You should end up with about 12 cups of juice.  This step can be done a few days ahead of time; refrigerate until needed.
When ready to serve, combine the watermelon juice, ginger ale, gin, and lime juice.  Stir, add the watermelon "ice cubes", and enjoy!
Another great hostess tip: In addition to the watermelon ice cubes, fill a cupcake pan with one round slice of lime (or lemon) in each of the 12 cupcake wells, then fill each well about half way with boiling water (boiling the water means the ice will freeze clear instead of looking white).  Put the tray in the freezer and voila!  Some of the cutest decorative ice cubes ever for your punch.  If you have trouble getting them out of the cupcake pan, run some warm water over the pan to loosen them.