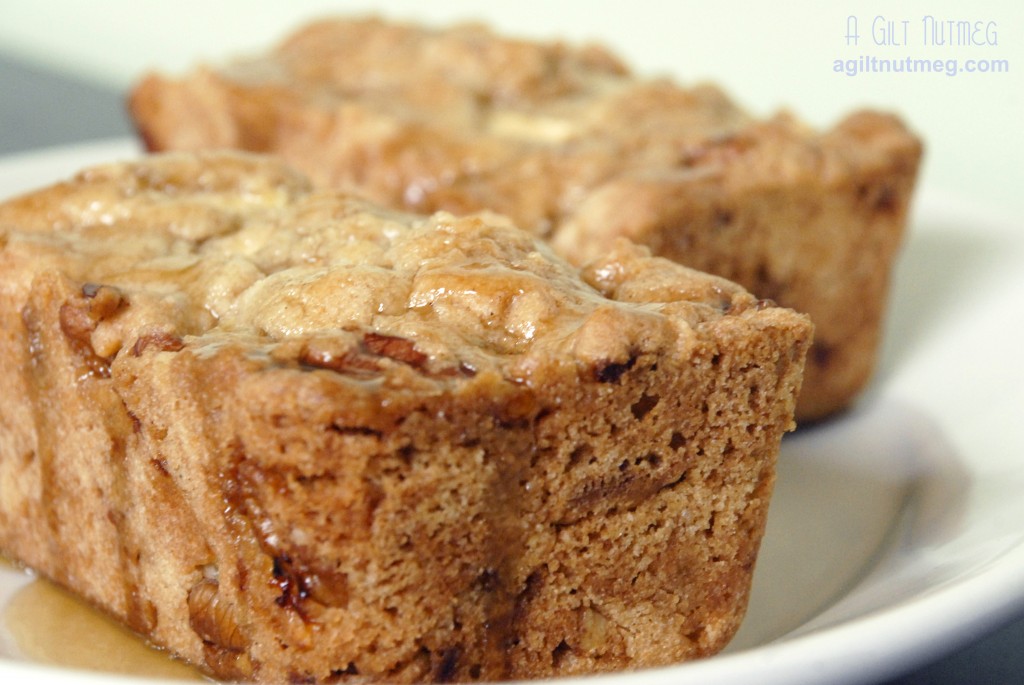 In trying to pick this week's PPQ recipe, I chose these little cake loaves thinking they might be nice for Mother's Day Brunches.  What I didn't realize was that I might come across one of my new favorite recipes from The Pastry Queen.  These little loaves are super moist yet they have a great crunchy-chewy crust and the nutty spicy apple flavor is just phenomenal.  The cakes are not too sweet and perfect for any time of the day…which is bad news for me because it means I'll be eating them morning, noon and night if I can.  You can bake it as one big cake instead, but mini loaf pans are super cheap at Sur la Table and I think they're totally worth the few dollars investment (especially around the holidays).
I only made two changes to Rebecca's original recipe: first, since I had limited time and only 2 loaf pans, I made a half recipe.  The Boyfriend loves spice more than anything so I dutifully used the original cinnamon and nutmeg measurements instead of halving them and they turned out so well that I will absolutely be doubling the amount when I make a full sized batch next time.  I almost worry about the lack of spicy flavor there could have been if I had followed the original recipe.  Second, I didn't feel like hunting down a bottle of Calvados (an apple brandy), so instead of the 1 Tablespoon of Calvados, I subbed 1 Tablespoon of apple juice and 1 Tablespoon of normal brandy and just let it boil off a little longer.  I think the result was just as good as the original.
Really, I can't say enough about how much I love this recipe.  It strikes exactly the right chord of sweetness, crunch, nuttiness, and soft moist cake texture.  Since we finished the two mini loaves I made today for Mother's Day within minutes, I am absolutely coming home from the office tomorrow and using up the rest of my apples on another batch.
Be sure to check out the other Project Pastry Queen-ers versions here!
Mini Apple-Cinnamon Loaves with Apple-Brandy Glaze
Adapted from The Pastry Queen by Rebecca Rather
Makes 5 Mini Loaves
Loaves:
1 1/4 cup vegetable oil
2 cups sugar
2 large eggs
2 tsp vanilla
3 cups flour
1 tsp cinnamon
1 tsp nutmeg
1/2 tsp baking soda
1 tsp salt
3 large apples, peeled, cored and diced (I used Granny Smith apples)
1 cup pecans
Glaze:
1/4 cup unsalted butter
1/3 cup packed light brown sugar
1 Tbsp light corn syrup
1 Tbsp apple juice
1 Tbsp brandy
Heat the oven to 350 degrees.  Grease 5 miniature loaf pans (sized approximately 6″ x 4″ x 2″) and set aside.
In a large bowl, whisk together the oil, sugar, eggs and vanilla until thoroughly combined.
In a separate bowl, mix together the flour, cinnamon, nutmeg, baking soda and salt.
Add the flour mixture to the oil mixture until fully incorporated.
Rebecca helpfully pointed out that the batter will be very stiff at this point, not very liquid, so it will be a little difficult to mix in the apples and pecans, but it works.  I didn't want to use my stand mixer in case it broke up the apples into mush, so I pulled the bowl off the mixer and stirred the apples and pecans in by hand with a wooden spoon.  Mix in until they're evenly distributed.
Press the batter into the loaf pans so that the pans are about 3/4 full and smooth the tops out with the back of the spoon.
Bake for 55-60 minutes; an inserted toothpick should come out clean and they should be a light golden brown on top.
Cool in the pan for 10 minutes then take the loaves out of the pan and let them finish cooling on a wire rack.
While the cakes are cooling, melt the butter in a small saucepan whisk in the brown sugar, corn syrup, apple juice and brandy.  Let it simmer for 5 minutes so it can thicken and then spoon a couple of spoonfuls of the glaze over each loaf.
Let the cakes fully cool and the glaze dry for at least an hour before wrapping them-if they even last that long!  Enjoy!