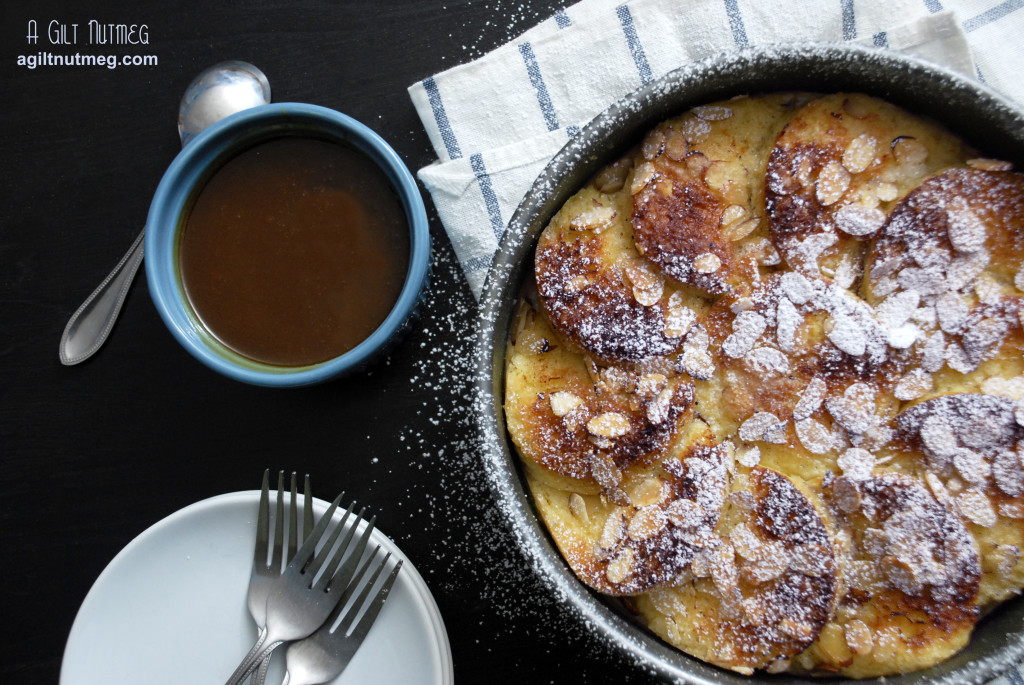 My boyfriend loves bread pudding.  With this knowledge in hand, I was pretty sure fate was on my side when Bon Appetit's January issue came out featuring an Almond Bread Pudding with Salted Caramel Sauce just days before it was time to celebrate said boyfriend's birthday.  To be sure, this was not the standard cinnamon-y raisin flecked bread pudding.  This bread pudding had a focus on almonds and custard, and, even though I was worried it wouldn't be as well received, the fact that it was practically inhaled by the four of us having birthday dinner and Apples-to-Apples battles was a pretty good indicator that this recipe was a winner.
I thought that the slightly tedious circular bread cut outs were just to look fancy, but, given that each round has a slather of almond butter on the underneath side, it worked surprisingly well at having that almond flavor perfectly marbled throughout the entire dish.  It worked so well, in fact, that I want to make another one soon, maybe with some cream cheese and cinnamon, knowing that there will be just the right amount of spice in every bite.
Note: you can make the caramel sauce well in advance, to save some time.  Always important when planning special desserts!
Almond Bread Pudding with Salted Caramel Sauce
Recipe slightly adapted from Bon Appetit, Jan '13
Serves 8-10
Pudding
1 1/4 cups half-and-half
1 1/4 cups heavy cream
1 vanilla bean
4 egg yolks
3 eggs
3/4 cup sugar
1/4 tsp kosher salt
1 loaf (1 lb) brioche or challah
1/2 cup almond butter (with no added sugar)
3 tablespoons sliced almonds
2 tablespoons raw or white sugar
powdered sugar
butter
Caramel Sauce
1 cup sugar
1/8 tsp cream of tartar
1/4 cup unsalted butter
1/2 cup heavy cream
1 tsp kosher salt
In a medium saucepan, whisk together the half-and-half, cream, and seeds scraped from vanilla bean.  Add the bean to the pot as well and bring to a simmer, then turn off the heat.
In a medium bowl, whisk together egg yolks, eggs, sugar and salt.
Pouring in just small amounts at a time, add the hot cream mixture into the egg mixture, whisking thoroughly each time before pouring in a little more.  Continue until fully combined.
Cover the bowl with plastic wrap and let it rest for 30 minutes.  After 30 minutes, strain in a fine mesh sieve to remove any bits of cooked egg and the vanilla bean.
While the custard is resting, heat the oven to 350 degrees.  Butter a round cake pan, 8″ wide with 2″ high sides.  Using something close enough will be fine, just don't use a springform pan, like I did.  I was only worried about getting a pan as close in size as possible and in the process forgot that the custard would leak out!
Still in that 30 minute time frame, slice the bread into 3/4″ slices (you'll need 10-12 slices).  Cut the crusts off each slice, then, using a 3″ wide round biscuit cutter, cut a circle out of the middle of each bread slice.  Save the scraps- you'll need them!
Arrange the bread scraps into the bottom of the buttered pan, fitting them in tightly like a puzzle.  Press gently with your fist to squish them down slightly.
Spread one side of each round piece of bread with almond butter, then place slices, almond side down, into the pan, arranged in an overlapping circle, as seen in the picture above.  Save one slice to place in the center of the circle.
Pour the custard over the arranged bread, making sure to do so evenly.
Sprinkle the almonds and 2 tablespoons of sugar over the top of the bread.
Place the cake pan in the center of a large roasting pan and fill the roasting pan with water that reaches about half way up the sides of the cake pan.  Cover the roasting pan with tin foil.
Bake for 25-30 minutes before removing the foil and raising the temperature of the oven to 375 degrees for another 25 minutes.
Move the cake pan to a cooling rack for a few minutes before dusting with powdered sugar and serving with the salted caramel sauce.
To make caramel sauce: In a medium sauce pan, whisk together sugar, cream of tarter and 3 tablespoons of water.
Bring mixture to a boil, stirring to make sure the sugar dissolves.  Once the sugar is boiling, do not stir until the mixture begins to darken in color, then stir to ensure the sugar cooks evenly.
Watch the mixture carefully as it will darken extremely quickly.  Once it reaches the color of honey, turn the heat down to low and continue until almost an amber color before turning the heat off.  The mixture will continue to darken for another minute or so after you turn the heat off.
Carefully stir in the butter (caramel will bubble!).  Once that is melted, stir in the cream and salt.
Let cool slightly before serving and enjoy!