I love Oatmeal Raisin cookies.  "Love" may even be an understatement.  While other more flashy cookies may temporarily steal my attention, I will always come back home to Oatmeal Raisin.  Soft yet chewy, full of oats, raisins and spices…you really just can't beat a good one of these.  When it came time to start baking my own Oatmeal Raisin cookies, I consulted the two sources I trust most: Cooks Illustrated and the back of the Quaker Oats Oatmeal canister.  Surprisingly enough, Cooks tells you immediately that the recipe Quaker Oats provides is pretty near spot on, with only minor tweaks-high praise from CI!  My only hesitation was that CI proceeded to take out most of the spices that I love, so I went back to Quaker's recipe for help and remedied that.  The resulting cookie is incredible:  big, fluffy, chewy and I love being able to pick out the little specks of spice on the top of the cookie- dark brown nutmeg, light brown cinnamon and black vanilla beans.  Interestingly, I found these taste best after they "rest" for a day or even two days after baking; I don't know the theory behind this, but just trust me.  These are outrageously simple to make and my sister and I both agree that they qualify as breakfast food (oats…raisins…yes).  So with that, I share with you my favorite cookie recipe of all time…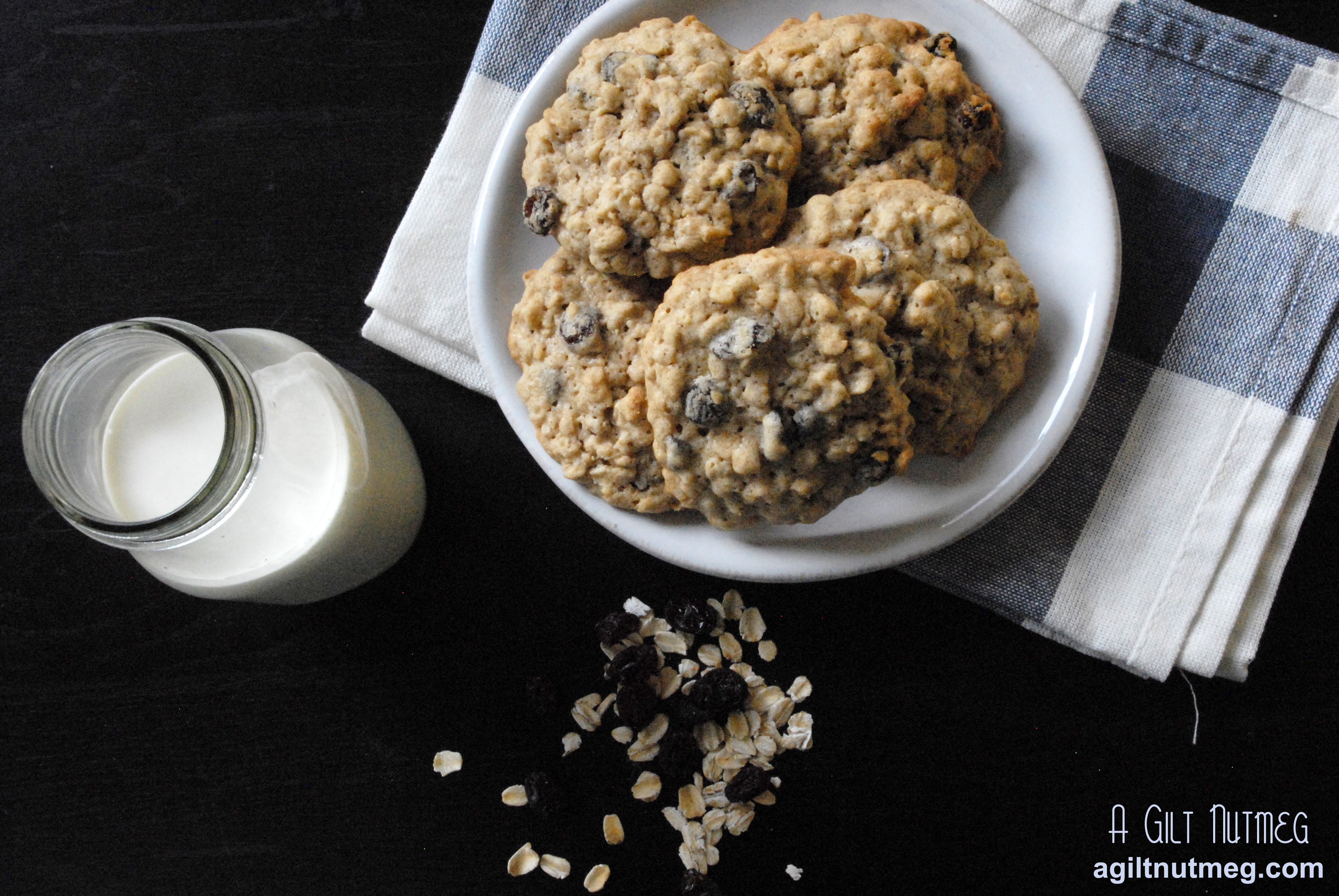 Oatmeal Raisin Cookies
Adapted from Cooks Illustrated and Quaker Oats
Makes approximately 20 large cookies
2 sticks unsalted butter (1/2 pound), softened but still firm
1 cup light brown sugar
1 cup granulated sugar
2 eggs
1 teaspoon vanilla bean paste (or substitute extract)
1 1/2 cups unbleached all-purpose flour
1 cup raisins (or if you really love raisins, go up to 1 1/2 cups)
1/2 teaspoon table salt
1/2 teaspoon baking powder
1/2 teaspoon fresh ground nutmeg
1 teaspoon cinnamon
3 cups rolled oats
Heat oven to 350 degrees.
Using an electric mixer, beat the butter until completely softened, 2-3 minutes.
Add brown and white sugar and beat an additional 3 minutes, until fluffy.
Add in vanilla and the eggs, one at a time, making sure they are fully incorporated after each one.
In a separate medium bowl, whisk together the flour, salt, baking powder, nutmeg and cinnamon.
Using a wooden spoon, stir the dry mixture into the butter-sugar mixture until fully combined.
Add in the oats and raisins to the batter and stir with the wooden spoon until both are incorporated evenly into the dough.
Line baking sheets with parchment paper and form about twenty 2″ balls on the baking sheets.
Bake until the very edges of the cookies turn golden brown but no longer, about 20-22 minutes.  The cookies will look too light on top, but trust me.
Let the cookies cool for 5 minutes on the baking sheet before transferring cookies to a cooling rack.